African All Stars
'I would love to win the Ballon d'Or'- Tammy Abraham dreams big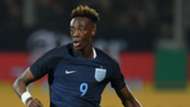 Swansea City's Tammy Abraham is dreaming of winning the Ballon d'Or and he is confident that with hard work he can make it real.
The striker scored 26 goals from 48 appearances last season while on loan to Championship side, Bristol City and he is upbeat of surpassing the feat this term.
"I would love to win some major trophies and I would love to win the Ballon d'Or, that would be a perfect career," Abraham told Sky Sports.
"It's something to push for and work hard for. I have always been ambitious.
"I have to dream big this year. Last year I would have never dreamed of getting near 30 goals and I got 26 which was a massive thing for me. My dad said this year you have to aim for what you got last year, even beat it...I love it, it drives me and it's something to work hard for."
The Chelsea player who is on loan to the Liberty Stadium outfit said it was easy to decide to play for Paul Clement after the manager paid him a visit at home.
"He came to my house and got to know my family," said Abraham. "We made a decision from there that he is someone I would love to work with and he had good ambitions for me. That's always nice and that's when I decided.
"You get to know the coach and what he wants and what his plans are for the season and for you. It gives me confidence.
"It was a big decision and we sat down as a family and put all the facts down and decided Swansea was the place to be. I spoke to staff at Chelsea as well and they said Paul is a fantastic guy and is really going to improve you."