African All Stars
I want to play in the World Cup and Enyeama is my idol, reveals Francis Uzoho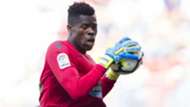 As one of the most promising graduates to come out of the famed Aspire Academy, Francis Uzoho who now plays for Deportivo La Coruna is already being tipped for superstardom.
Born October 28, 1998, the goalkeeper represented Nigeria at the 2013 Fifa U17 World Cup – as a backup for Dele Alampasu.

When many thought he had gone into oblivion, Uzoho announced himself to the footballing world at just 18 keeping a clean slate in his LaLiga debut against Eibar. A month later, he made his senior international debut in Nigeria's 4-2 defeat of Argentina in Krasnodar.
Despite his tender age, it will not be a surprise to learn, that Uzoho is a key figure in his Spanish topflight side.  And ahead of his side's clash with Celta Vigo, the youngster in a no holds barred interview with LaLiga talks about the Galician derby, the Nigeria national team and other issues.
Q: How would you describe the mood of the city ahead of Saturday's Galician derby between Deportivo La Coruna and Celta Vigo?
U: The mood in the city is tensed, and everyone is excited and looking forward to the game.
Q: This is a big game, it's a derby! What is the feeling like among the players?
U: Right now, I would say that the feeling is the same as every game really, although it is a different game altogether because it is a derby, the feeling is still the same. We are fine, we are ready and we feel the same way as against other teams.
Q: Celta Vigo are ahead of Deportivo La Coruna on Laliga table right now. Do you think Deportivo can win this game and of course claim the bragging rights at stake?
U: Of course I believe so. A derby game is not about where you are on the table, it is a different game altogether so I believe and I know that Deportivo will come out victorious on Saturday.
Q: What is your opinion on Celta Vigo as a club and their performance in the Spanish top flight this season?
U: Celta Vigo are a very good and big team, they have good players and more experience. And where they are in the league speaks a lot because they are in a very good position, not in a dangerous one. I feel they are playing good.
Q: You joined Deportivo from Aspire Academy, how will you describe LaLiga as a league and how would you describe the experience?
U: My experience in the league has been incredible. LaLiga is simply the best league in the world, the best players and biggest clubs are here and I'm excited to be a part of it.
Q: Against Argentina, you made your international debut, played for 45 minutes and kept a clean sheet as Nigeria silence La Albiceleste. Do you see yourself getting a chance to represent Nigeria at the World Cup?
U: Of course, I believe if the coaches have confidence in me, and given the chance to play, I will play, and I will do my best in Russia.
Q: How far do you think Nigeria can go at the World Cup?
U: I think Nigeria can go very far because we have a very good team. The best I have seen in a while now from the Nigerian national team.
Q: How would you rate the chances of the other African teams participating at the World Cup next year?
U: Other teams in Africa also have good players and good teams. For example, Morocco did not concede any goal during the qualifiers and I think African countries are going to go very far this time in the World Cup.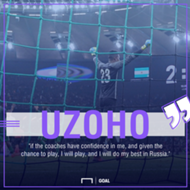 Q: Do you think an African country can ever win the World Cup?
U: Yes of course! An African team is going to win the World Cup. Maybe not now definitely, but I hope this time, Nigeria will make that dream come true for Africa.
Q: As a goalkeeper, who were your role models growing up?
Francis Uzoho: I admired Edwin Van der Sar, and Vincent Enyeama.
Q: And any message for your fans and fans of LaLiga all over Africa?
U: I want to thank my fans and I appreciate their support and I urge them to keep supporting, and to keep having faith in me. They should also keep watching LaLiga because it is the best league in the world.