I-League
I-League: Gokulam Kerala's Shinu yearns for first-team football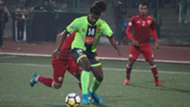 Shinu Selvan is one of many Kerala-born players who made their debut in I-League this season with Gokulam Kerala. The Kozhikode-based club, under head coach Bino George, turned their fortunes around in the second-half of the season to finish seventh and earn the now popular nickname 'Giant Killers FC'.
Shinu, a 21-year-old Trivandrum-born University College player was over the moon when approached by Bino George to sign for Gokulam Kerala and despite limited first-team role, the defender is glad to have experienced a taste of India's top-tier football. 
"It was a good experience this season, it was my first time in I-League. I'm happy that I got to play against good teams. I'm also thrilled that we managed to win against top teams like Minerva Punjab, East Bengal and Mohun Bagan," Shinu spoke to Goal. 
The team's poor start forced the head coach to make full use of the foreign players at his disposal, costing an inexperienced defender like Shinu first-team minutes. But none of the players in the squad had any complaints and instead, they projected a united front throughout. 
"The whole squad is united. During the first half of the season, we used to regularly come together and talk about what went wrong. Both the foreign and Indian players would take part in meetings to sort out the issues. That helped and we improved later on.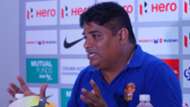 "Daniel Addo was particularly helpful as he always motivated the younger players. And as for Indian players, we get along well with everybody. 
"I wasn't the first-choice at my position. The coach had foreign options in defence and he wanted to go with them in the first-team. But then when I did get chances, the feedback was very good."
After a highly impactful season that saw them finish seventh in I-League after impressive wins against eventual champions Minerva Punjab, Mohun Bagan and East Bengal, a Super Cup qualifier win against Indian Super League (ISL) club NorthEast United and an excellent performance in the defeat against Bengaluru FC in the next round, Bino George stepped down as head coach in order to take a sabbatical. And the club roped in Spanish coach Fernando Santiago Valera to take charge of the team. 
"Bino George had certain ideas on how to play and the team played accordingly. He gave chances to youngsters. Being a Keralite, there wasn't a language barrier. It was easy to communicate.
"The new coach just started the training sessions. The language barrier could be a bit of an issue but we have a translator who gets the messages across. He has really good ideas for the club and it looks promising," revealed Shinu. 
Shinu is getting all the support he needs from his family. And it helps when you have a brother who plays football. Seesan Selvan, who captained Kerala and won the Santosh Trophy this year, is Shinu's elder brother. 
"When I play football with my brother, we feel a connection. I know what he's thinking and vice versa, it is always fun. But he has a job and wants to keep that. It is unlikely that he will throw it away to play professional football"
Unlike the younger sibling, Seesan works for the State Bank of India and the only way he can play professional football at a club is if he decided to step down from his job - something that's not presently feasible for the Santosh Trophy-winning skipper.
However, his younger brother looks set to realize the dream of playing football at the highest level. After playing only around 200 minutes of football in his first season at Gokulam Kerala, Shinu is wishing for more chances in the first-team.
"I haven't decided whether to continue at Gokulam Kerala or sign for another club. I have offers from Minerva Punjab and Ozone FC. I'm thinking about it, I will stay if that's better for my career."
Look out for the defender with the pony-tail hairstyle next season. Because he is set out to realize not just his dream, but that of his brother as well.