I-League
I-League 2017: Mohun Bagan's Sanjoy Sen - 'Aizawl FC will be under more pressure than us'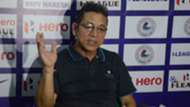 The entire Indian footballing fraternity is tuned into Aizawl right now. For, on Saturday afternoon, the destination of the I-League trophy could well be decided as Aizawl FC host Mohun Bagan at the Rajiv Gandhi stadium in Aizawl. 
Speaking to the media ahead of the blockbuster encounter, Mohun Bagan head coach Sanjoy Sen went on to praise the stadium and atmosphere in the capital of Mizoram. "First of all, it's an amazing atmosphere. We had a practice session yesterday to acclimatise ourselves with the ground and climate," he said.
"It is nice here and unfortunately, I was not in the technical area last time but I felt the passion of the people here in Aizawl despite being in relegation zone last year. So it should be amazing tomorrow." 
Aizawl vs Mohun Bagan: Key battles
The 56-year-old went on to praise Aizawl's recent form. "My players know the importance of the game. In the previous game, they played Churchill Brothers and won. We had incidentally lost to them. Aizawl were very good in that game and they have won 10 out of 16 games. They've played very well," he pointed out. 
"Aizawl have shown the way for all the north-eastern states players. Unfortunately, no one from Aizawl FC is in the Indian national team but in the future, I think many players will make it. I thought even last year they played very well and they reached the Federation Cup final. Now they are vying for the title," Sen added. 
Mohun Bagan could win the league with a win on Saturday and a loss by at least 2 goals could see Aizawl crowned champions. When asked if playing away in such a fixture was a disadvantage, Sen brushed off the suggestion. 
Aizawl - Mohun Bagan: Combined XI
"I don't care if our away form has been bad or not. All that is important is that we are on top of the table and when we won the I-League in 2014/15, we secured the game in an away game. So in football, it doesn't matter," he said. "It's a must-win situation for Aizawl. We can win the league even if we don't beat them tomorrow," he emphasised. 
The gaffer did confirm that Jeje Lalpekhlua, who hails from Mizoram, will play a part in Saturday's game but did not confirm if he would start. 
Aizawl FC boss Khalid Jamil, who has just turned 40, presented an optimistic picture ahead of the game. "I feel good. We have to play well tomorrow. We're playing a good side. The players have done well. The credit for our season goes to all the players," he said. 
Aizawl v Mohun Bagan: What do the numbers say?
"There is pressure for Mohun Bagan also right. They also have to give everything. We cannot take this match lightly too. We need everybody to support us 100%. We have the home advantage also," Jamil offered. 
The former Mumbai FC coach did confirm that Aizawl do not have any major injury worries.