I-League
I-LEAGUE 2017: Chennai City FC strengthens squad by signing two Kyrgyzstan internationals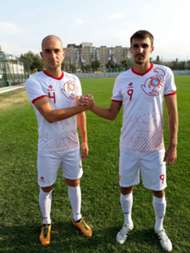 Chennai City FC has secured the signing of Veniamin Shumeiko and Ildar Amirov for the 2017-18 I-League season. 
The two players who hail from Kyrgyzstan have a total of 42 International caps in between them. The team believes that together their experience will help in Chennai putting up a better show in the I-League this season. 
The 29-year-old Ildar has experience of playing in India before with East Bengal back in 2016-17 but things didn't go out as planned for the Kyrgyzstan forward as he ended up making only 2 appearances for the Red and Golds that season before being subsequently released by the club. 
"Last season, I did not have enough time to get acquainted with Indian football. I did not even have a chance to play against Chennai City FC."
"I now have a chance to get to know the state and the club better. As for my former employers, East Bengal, I am looking forward to playing against them this season" said Ildar. 
Ildar said he would not hesitate to jump at any good opportunities to play abroad to cement his place in the national squad. 
"Our National Team Coach, Aleksandr Krestinin has emphasized that overseas based players will receive higher priority in terms of getting call-ups. For now, I am focused on adding value to the team so that we can achieve the best possible results. I will like to score as many goals as possible in order to help the club challenge for honours." 
As for the towering centre back Shumeiko, it is his first overseas football venture. The no-nonsense defender, who is well adept with both feet, is a good distributor of the ball from the back and might just be what Chennai City FC need to sort out their defensive woes. 
"I am really happy to play football in such a wonderful country like India.  I have watched the I-League games which featured our Kyrgyzstan players and I am very impressed with how much the Indian people love their football. They turn up in droves at the stadiums to support their local team. This is the type of atmosphere which I want to play and thrive in." said Shumeiko. 
Veniamin also mentioned that former Churchill Brothers FC Kyrgyzstan midfielder, Talgat Bektur had given him valuable advice on India football.
"Bektur told me good things about football in India. He also told me that despite being a new entrant in the I-League, Chennai City FC is a well organized and strong team. I have held back opportunities to play abroad because I am only interested to play in a stronger league. India happens to tick all the right columns in this aspect and I am looking forward to my first overseas footballing adventure." he concluded.