I-League
I-League 2017-18: Chennai City's V Soundararajan: The team is in good shape now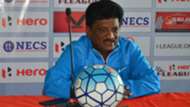 V Soundararajan's Chennai City FC will lock horns with I-League debutants NEROCA at home soil on Tuesday.
Speaking before the game, the head coach mentioned that his team have prepared well for the face-off and have worked on the errors committed by them in the previous meeting with NEROCA where they ended as the losing side. 
"We have a specific strategy for the opposition team and we have the support of playing on our home ground. In Imphal, we lost the match as we missed many chances and a penalty-kick. Now we know our mistakes and we will go all out tomorrow (Tuesday)," remarked V Soundararajan.
Reflecting on the performance in their earlier tie against NEROCA, the gaffer mentioned the evident lack of communication as a reason for their failure and stated that the issue has been solved.
"We gave away width and there was a total lapse in defence. There was no communication between the goalkeepers and defenders. We practised and rectified (mistakes) after that. Uroj (Poljanec) is pretty vocal with the centre-halves and we have come a long way. The team is now in good shape. I don't find any communication problem now," he asserted.
While Chennai City look ready for Tuesday's match in Coimbatore, NEROCA FC head coach Gift Raikhan said that his side are without a ground to train and are yet to prepare for the fixture.
"I haven't prepared anything. We came very late yesterday (Sunday). For tomorrow's (Tuesday) match, I will go and prepare now. We are not getting a ground. We need to train somehow, somewhere," he commented.
Despite the lack of preparation, Raikhan is confident about his side as the lads have shown improvement.
"We have to prepare mentally and stand together. My team is consistently doing very well now. My team is collectively strong," he explained.
The kick-off is at 8:00 PM IST at the JLN Stadium in Coimbatore.