Manchester United
'I feel sorry for the fans' - Ibrahimovic reveals his Man Utd regret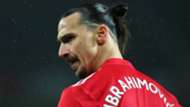 Zlatan Ibrahimovic has spoken of his regret at not joining Manchester United earlier in his career, stating that fans would have seen "a different lion" instead during his time at the club.
Ibrahimovic, the leading international scorer in Swedish history, spent the best part of two seasons at Old Trafford following his arrival in 2016 from Paris Saint-Germain, and helped the Red Devils to win the EFL Cup in his first year.
A severe knee injury sustained late in the 2016-17 campaign restricted his appearances the following season however and he transferred to LA Galaxy in March this year, having last played for United against Burnley in December.
"I would need more time to explain my feelings but let's start with a big thanks to everybody - what they did was amazing and I hope they are as happy as I am," Ibrahimovic told United's official website.
"I feel sorry for the fans - if they'd seen me younger, they'd have seen a different lion. For the Premier League, it would have been dangerous, as I would have eaten them for breakfast; instead, I took them for lunch."
"I gave as much as I could for as long as I could; when I got injured, I got support in a different way. They always stood behind me and my team-mates."
Ibrahimovic, who also had stints with Ajax, Juventus, Inter Milan and Barcelona before joining United, has tipped his former side to have a "special season" after he attended a training session on their International Champions Cup tour of the United States.
"They are special: everywhere I see red, I think about United," he added. "It will remain in history and my career; when I look back at my time with United, I will do it with a smile. I wish them all the best in the future."
United, under Jose Mourinho, kick off their ICC campaign against Ibrahimovic's old side AC Milan in California before they meet Liverpool in a Premier League derby at Michigan Stadium in Ann Arbor.
They then conclude their trip to the USA against Champions League holders Real Madrid at the Hard Rock Stadium in Miami Gardens.