World Cup
'Hurray Africa!' – Nigeria celebrate as France advance to the World Cup final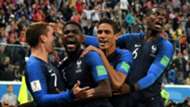 France sealed a crucial 1-0 win over Belgium to book their place in the 2018 Fifa World Cup in Russia on Tuesday evening.
Samuel Umtiti's second-half header sent the French side into a frenzy as they look set to win their first World Cup trophy since 1998.
On their journey to the final, Didier Deschamps' charges defeated Argentina, Uruguay and Belgium, teams who had earlier thrashed Nigeria, Egypt and Tunisia respectively in the group stage of the tournament.
And Nigerians congratulated the 1998 world champions for the job well in the Saint Petersburg Stadium and for avenging for the African countries.
Congratulations to Les Blues on making it to the #Worldcup final. #BEL will rue their chances and especially Romelu Lukaku who had been largely ANNOYMOUS in the game.#FRABEL#NFFCShow#BetheHERO#WhereFootballLives

— A U R A C O O L (@TWEETORACLE) July 10, 2018
France built a talent production line that continues to produce and produce great players. They have players that didn't come to Russia, that could have made the quarter finals themselves. Congratulations France #WorldCup

— JJ. Omojuwa (@Omojuwa) July 10, 2018
#FRA are in the #WorldCup Final #FRABEL

— Colin NOT Collins (@ColinUdoh) July 10, 2018
WAOOOOOOOOHHHHH!!!!

And that's it! France are through to the final! #WorldCup pic.twitter.com/SYToiI1GzL

— Goal.com Nigeria (@GoalcomNigeria) July 10, 2018
France have advanced to the #WorldCup final without necessarily looking, at any point in Russia, like potential winners.

Did good against Argentina, granted... But Argentina were quite rubbish.

— Solace Chukwu (@TheOddSolace) July 10, 2018
1998 World cup semi-final:
France 2 -1 Croatia, french goals scored by Thuram( A DEFENDER) &
France won the world cup.

2018 world cup semi-final:
France 1-0 Belgium, goal scored by Umtiti (another DEFENDER).................🤔🤔🤔

— Olaleye Dada (@olaleyedada) July 10, 2018
FT. France 1-0 Belgium

The Belgian golden generation couldn't reenact their quarterfinal magic. Adieu golden generation.

France won the tactical battle tonight, congrats to them.#Russia2018 #Opetimistic

— #Opetimistic (@dimu4ever) July 10, 2018
Hurry Africa United are in the finals #WorldCup#FRA

Mandanda (🇨🇩)
Umtiti (🇨🇲)
Rami (🇲🇦)
Kimpembe (🇨🇩)
Sidibe (🇲🇱)
Mendy (🇨🇮)
Matuidi (🇨🇩 & 🇦🇴)
Fekir (🇩🇿)
Pogba (🇬🇳)
Tolisso (🇹🇬)
Nzonzi (🇨🇩)
Kante (🇲🇱)
Mbappe (🇩🇿 & 🇨🇲)
Dembele (🇸🇳 & 🇲🇱) pic.twitter.com/p2Ot6ga7yT

— Kelechi Nkoro (@K1Says) July 10, 2018
Frannnnnnnnnnnnnceee#FRA

Somehow Thierry Henry is happy 😂
Happy Mofo pic.twitter.com/S3HCwuXolZ

— Torr' is here! ✝️🇫🇷🇳🇬🏴󠁧󠁢󠁥󠁮󠁧󠁿🇺🇸 (@davidadesegun) July 10, 2018
Let's tell ourself the truth, if not for that last min goal we conceded, Nigeria would have been in the Finals right now.

Just replace France with Nigeria

(France defeated Nigeria replacement, Argentina so if Nigeria replace Argentina, Nigeria can also replace France)

— Engr. Xyoun ju lee (MNSE ISPON COREN LEEA NEBOSH) (@xyoung7123) July 10, 2018
Africa has a team in the finals #Russia2018#France 🇫🇷

— Nigeria 💔 #WhereIsTheLOVE 💔 (@brunoegwumba) July 10, 2018
What Nigeria couldn't do, France has done. Ordinary to qualify for world cup final, we can't.

— Street lawyer (@kayusolalekan) July 10, 2018
If #France 🇫🇷 wins this #worldcup you can technically say that #Nigeria and #Africa won the world Cup cos France is the 6th African team at the world Cup... Lol 😁
.
.#FRABEL #WorldCup #Russia2018 #Belgium #lagos #nigeria #football #WorldCup2018

— Ev Oputa (@Evoputa) July 10, 2018
France punished Argentina for beating Nigeria
France punished Uruguay for what Suarez did to Ghana in 2010
France punished Belgium for what they did to Japan
WHO IS NEXT.....
FRANCE ALL THE WAY TO THE FINALS

— Badboy Dangote ™🇰🇪 (@Am_the_Jay) July 10, 2018
France doing it for Nigeria😫♥️

— Zau Fanjinba (@mohmairami) July 10, 2018