WTF
How to get a free FIFA 17 Ultimate Team TOTW player rated 84 or better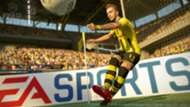 Grabbing a top player on FIFA Ultimate Team doesn't get much easier than this.
EA Sports are currently giving away a free Team of the Week 84+ pack — which guarantees one untradeable TOTW in-form player rated 84 overall or higher — and it's incredibly simple to claim.
Bet on the new Premier League season
There are just two steps to follow.
First, you'll need to sign up for the FUT Champions Club. This does not seem to do much except make you eligible for a monthly reward like this one and, on the off-chance you're good enough, give you the chance to qualify for competitive events.
Once you've done that, you simply need to play one game of Ultimate Team on FIFA 17 between July 1 and July 31 to claim the free pack. It doesn't have to be a FUT Champions match — just any Ultimate Team game on Xbox One, PS4 or PC.
The pack should then be delivered to your account by August 11.
How to save nearly £20 on FIFA 18
The TOTW player you'll get is untradeable, but still has value off the pitch as well as on it — he could be very useful in squad-building challenges, for example, which could lead to further rewards.
You'll need to sign up and get that one FUT game played before the end of the month to cash in, so get moving!