Steve Mandanda
How Mandanda & Co are planning to salvage Crystal Palace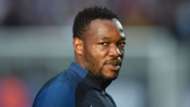 France goalkeeper Steve Mandanda is currently recuperating from a knee injury sustained last December that needed a surgical intervention, which has kept him out of action for more than six weeks at Crystal Palace.
From the sidelines, the 31-year-old has been watching in dismay the dwindling fortunes of his side in the Premier League, where they now sit 19th after 25 games played.
He is itching to return to the pitch to contribute to The Eagles' revival mission but admits it would be difficult, first, for him to regain his place, and then to pull the club out of a 'complicated situation'.
"I'll be back. I'm working very hard to return to the pitch. I'm feeling better by the day and can't wait to join the competition which I have been missing," Mandanda told French radio RMC during a live programme called Team Duga on Tuesday.
"Today, I have no guarantee. I know it's up to me to show that I am good enough and that I deserve to play again. I got injured. There have been changes to the squad. The counters have been reset to zero. I need to double efforts to win back my spot," he said.
Crystal Palace are currently second from bottom on the Premier League table, with 19 points and minus 14 goals, but Mandanda is confident they could salvage the South Norwood-based (London) outfit.
"It is not easy at all,' he said. "We're all working hard to try to get the club out of this complicated situation. I'm a competitor and seeing my club in this state makes me feel sick. I did not come here for that. I'm looking forward to returning to action to help my team out of this."
Like Dimitri Payet, would he return to former side Marseille? Mandanda refutes the rumours, claiming there are no talks underway with the club, where his heart seemingly belongs, after spending eight seasons at Stade Velodrome, from 2008 to 2016.
"There has been no direct contact. I have an agent working. We have a deal. We only talk about concrete things," he said.
"In my current situation, the most important thing is to recover my sensation and the competition. We shall see what happens, if there is an interest from Marseille, but if something has to happen, I repeat, it would be a pleasure because I have a strong attachment to this club. If I have to go back to France, it would be at Marseille and nowhere else."