eSports
How FUT Champions Cup changes led to 'crushing' victory of 16-year-old FIFA 18 star DhTekKz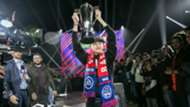 With the dust having settled after three days of intense competition in Barcelona, there's a new name on the lips of FUT Champions Cup fans.
Donovan 'DhTekKz' Hunt, a 16-year-old from the UK, left Spain $22,000 richer and with his spot in the Global Series Playoffs confirmed.
DhTekKz's shock win coincided with a number of big names being eliminated earlier than expected, including last year's winner, Spencer 'Gorilla' Ealing.
Brent Koning, FIFA's competitive gaming commissioner for EA Sports, expected surprises in 2018's FUT Champions Cup and delighted in a new star being discovered at the first stage of this year's competition.
"Our whole goal with our programmes is to find superstars," Koning told Goal. "The double-sided coin to finding superstars is that some stars lose and so our upsets I think are just as much a storyline as our winner.
"From our side, we couldn't be happier to find somebody who has gone from zero to hero. When we switched to Swiss format we knew we were going to see a different style of player rise to the top.
"Last year's Ultimate Team Championship Series winner, Rocky, didn't even make it out of the Swiss format groups stage and so I think when you see the big names not able to progress through a gruelling Swiss format, for us that's the cool part.
"We're trying to weed out who can handle the pressure."
While DhTekKz was able to see his name trending on Twitter throughout the weekend, it was clear to those in Barcelona that he was something special.
As Koning points out: "The beauty of this was format, not necessarily that this no-name was winning but the way he was winning.
"He would score early and he would score often and the way he would win was just shocking everybody.
"I think early on people had eyes on him and he would just start crushing people and I think our seasoned veterans didn't know how to react."
Minutes after a jubilant DhTekKz was presented with the trophy, brands and eSport teams were tweeting congratulations and making it clear they wanted to sign him up.
@DhTekKz Congratulations on the huge win mate, what an unbelievable final! Drop us a follow, we'd love to chat

— SPORTbible (@sportbible) January 28, 2018
F2 E-Sports will launch and our only target is @DhTekKz. Come join the #F2Fam bro. RT if you want this to happen

— The F2 (@TheF2) January 28, 2018
But for someone so young it wouldn't be wrong to suspect that the fame could be too much too soon.
Koning, who presented DhTekKz with the trophy on Sunday, doesn't think that fame within the FIFA eSports community will
"The best part of my job is seeing these guys go from relatively zero presence online and within the community and then the moment you realise they realise that this is going to be something," he said.
"That happened for him the moment I put the scarf over his head. I shared with him, 'this is your moment', and then he could just tell, 'oh sh*t, this is my moment'.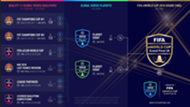 "It was great and then afterwards I said to him: 'You know you're going to have everybody want to speak to you.'
"This is just like real football. If somebody starts crushing it in the Premier League it's kind of expected, but if they're in a lower tier league, that's when the phone calls start coming in.
"Our advice for him is to take it slow and make the best decision for him, he's in a very cool spot. If you could bottle up what we're trying to do at EA, it's that."
When told that DhTekKz's Twitter following has rocketed – it's over 50,000 as of publication – Koning laughs. "He raised that trophy, we put the trophy down, he did a couple of interviews and shook every single person's hand that wanted, he took pictures with every single kid in the venue and he's instantly became a pro without even signing a contract and I think that is great but he's rock solid. It was really exciting to see."
With DhTekKz not being affiliated to either an eSport team or brands, the young star has important decisions to make as he makes the step from top amateur to fully-funded pro.
"You've got an eSport organisations and clubs, like Manchester City and FaZe; the next is brands like Unilad partnering with Gorilla; and then you have this hybrid, Fnatic and Roma for example," Koning continued.
"All three of those do things differently but the ones that make the proper investment are the ones that go through – it's not really about who they are but how they act. You have to keep some perspective.
"An eSports organisation, they've been digitally hyping and building brands around eSports for 10 years. When you have a legacy brand, like Manchester City, as an example, they have been around for a really long time.
"But they do things differently and when you look at the marketing of how these organisations are created, the ones that really successful are the ones who do that marketing really, really well.
"Regardless of who they are, if they can knock out the marketing and the promotion around building players up as brands, that's where things really come together."
The second FUT Champions Cup of the year takes place in April, with qualification throughout February, although DhTekKz has already secured his spot in the next round of the competition, the FIFA Global Series Playoffs in June.
The climax of the FIFA 18 season will be the FIFA eWorld Cup Grand Final at an as-yet-unconfirmed location and date, expected to be before the release of FIFA 19 at the end of September.