Chelsea
How Cesc Fabregas evolved to survive at Chelsea under Antonio Conte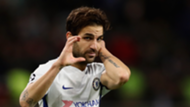 One year ago, Cesc Fabregas was playing in Chelsea's Under-23 team. The Spaniard couldn't get a game in the senior setup with Nemanja Matic and N'Golo Kante locking him out of the midfield spots.
At the time Fabregas had only made three starts all season, two of which were in the League Cup. He was then forced to line up alongside a host of youngsters to keep match fit in a Premier League 2 match against Southampton's Under-23 team.
Chelsea 23/20 to beat Atletico
The World Cup-winning midfielder had fallen to his lowest level since making his debut for Arsenal, and AC Milan were interested in securing a deal for the player who had fallen out of favour at Chelsea.
However, Fabregas had other plans. Motivated by his main career ambition to win the Champions League – the only major honour in world football he has yet to win – the Spain international has turned his fortunes around at Chelsea.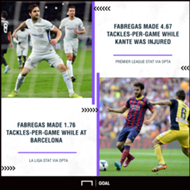 Antonio Conte's arrival saw Fabregas locked out of the first team, but the reasons were tactical rather than personal. Chelsea switched to a 3-4-3 formation that puts huge pressure on the central midfield pair to cover ground, and Fabregas was no longer a good fit.
The wing-backs in Conte's line-up often run beyond the midfield, and Matic and Kante fit better as powerful defensive midfielders in this new shape.
In fact, Kante won the PFA Player of the Year award in this system while the world-class Fabregas played an impact role from the bench. The playmaker won the second Premier League title of his career under Conte and injected freshness into Chelsea's title charge last spring, managing to pick up a few more starts in the process.
This season he has further established himself under Conte and his one-game-a-month spell during the Italian's early tenure at the club has become a distant memory. Fabregas is expected to start against Swansea on Wednesday and already has 17 starts to his name this season – just one fewer than he had in all of 2016-17.
At 30 years old, Fabregas is physically more powerful than ever. However, he has faced criticism at times for not being as creative as usual, particularly during October when both Kante and Danny Drinkwater were out with injury. 
Fabregas only made three starts by this point last season and he's got 17 now. I tried to find out what he's changed to impress Antonio Conte #CFC pic.twitter.com/taHSYvdYAD

— Nizaar Kinsella (@NizaarKinsella) November 24, 2017
The criticism was wrong and eagle-eyed viewers will have seen a midfielder transforming himself for the needs of the team. In Kante's absence, Fabregas made 4.67 tackles-per-game in the Premier League. It was more than double the number that he made with Kante around. In fact, it was the busiest defensive period of his career.
At Barcelona in La Liga, Fabregas was making on average only 1.76 tackles-per-game. The Spaniard's clearances-per-game and interceptions-per-game have both gone up under Conte and went up even further when Kante was out injured for a month.
With Fabregas' success rate in duels already at career-high levels, that number went up even further to 58 per cent in Kante's absence. His creative attributes suffered while Kante remained on the sidelines but under Conte, in general, they have stayed at the same high level that they have always been.
Fabregas sacrificed himself to help the team cover the ground lost when Kante got injured. He has also adapted more permanently to Conte's style, which has been made even more crucial by the summer sale of Matic to Manchester United.
A Fabregas masterclass is one of the most watchable spectacles in football, but he's given himself an extra burst of life in the later years of his career by adding to his game.
Fabregas admitted that players of his type are falling out of fashion in central midfield in a revealing interview with Chelsea TV last season.
"Today it is more difficult for the talented players to succeed," he said last February. "I don't think my physical abilities are the best. I'm not the quickest, I'm not the strongest, I'm not the sharpest.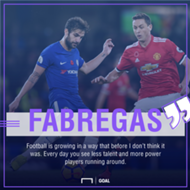 "So, you have to be ahead of the game if a player like me wants to succeed in football. To be a football player today, if you are very strong or you run a lot or stuff like that, it's easier.
"That's why I try to get even better because football is growing in a way that before I don't think it was. Every day you see less talent and more power players running around."
An artist is still at work at Stamford Bridge, but Fabregas chose to swim and not sink to allow his career to continue under Conte.