MLS
Houston Dynamo 2017 MLS season preview: Roster, schedule, national TV info and more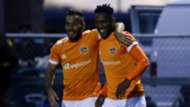 ---

2017 MLS SEASON PREVIEW
---
The Houston Dynamo wanted — maybe needed — to hit the reset button.
After Owen Coyle and the club split ways during the season, Wade Barrett took over as interim coach. Rather than keep Barrett on, the team opted to bring Wilmer Cabrera up from USL affiliate Rio Grande Valley. The former Chivas USA coach has wasted no time in bringing in players he believes will help the team win sooner rather than later.
MORE: Can Houston emulate FC Dallas?
The club needs that. After experiencing near-instant success upon moving from San Jose a decade ago, the franchise has sputtered, with the last Dynamo playoff berth coming in 2013.
With a stout Western Conference, Cabrera has his work cut out for him to achieve that goal of returning to postseason play, but the club hopes he's the man to get the team back into the postseason — and back on the trophy stand. 
---
How did the Houston Dynamo perform in 2016?
---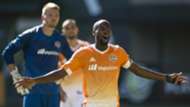 2016 finish: Tenth in Western Conference (7-14-13), missed the playoffs
Despite a midseason coaching shift after a slow start, just one team in the league — the Chicago Fire — finished with fewer points than the Dynamo.
---
The Houston Dynamo's key offseason losses
---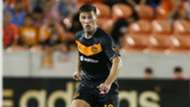 The Dynamo made several moves during the winter as Cabrera looks to put his mark on the team. Forward Will Bruin was traded to the Seattle Sounders for allocation money, and Sheanon Williams also was shipped to Cascadia for cash, joining the Vancouver Whitecaps.
Curtin facing big year in Philly
Center back David Horst left as a free agent. Collen Warner also departed Houston after being selected by Minnesota United in the expansion draft. 
---
The Houston Dynamo's key offseason additions
---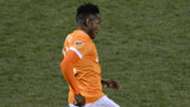 A pair of Honduran attackers are giving Dynamo fans the most excitement, with Alberth Elis arriving from Monterrey on loan and Romell Quioto joining from Olimpia. The team also has revamped its defense, with Panama international Adolfo Machado arriving from Saprissa and two former LA Galaxy defenders coming to Space City: Leonardo was selected in the re-entry draft, while the team traded to acquire A.J. DeLaGarza. 
Two South Americans, Uruguayan forward Vicente Sanchez and Colombian midfielder Juan David Cabezas, should bolster the team as well. And striker Erick "Cubo" Torres returned from a brief loan stint with Cruz Azul. 
---
How will the Houston Dynamo starting lineup look in 2017?
---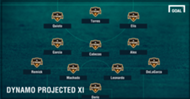 We could see Cabezas with Ricardo Clark in what could make for a pretty bruising midfield, but one that might not get passes wide to the speedy Hondurans as well as a more attack-minded player like Boniek Garcia could.
There are also position battles at center forward, where Torres has seen more minutes in the preseason than Colombian forward Mauro Manotas, though both should see time up top. And 34-year-old DaMarcus Beasley re-signed with the club during the offseason and could end up as the regular left back. 
---
Full Houston Dynamo roster entering 2017 season
---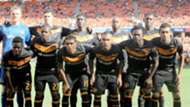 Goalkeepers: Calle Brown, Tyler Deric, Joe Willis
Defenders: Jalil Anibaba, DaMarcus Beasley, A.J. DeLaGarza, Kevin Garcia, Agus, Adolfo Machado, Dylan Remick, Leonardo
Midfielders: Alex, Eric Alexander, Juan David Cabezas, Ricardo Clark, Jose Escalante, Boniek Garcia, Andrew Wenger
Forwards: Alberth Elis, Mauro Manotas, Romell Quioto, Vicente Sanchez, Erick Torres
---
The Houston Dynamo's national TV coverage schedule
---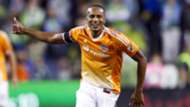 Houston Dynamo vs. San Jose Earthquakes - Saturday, April 22, at 4 p.m. ET on Unimas
FC Dallas vs. Houston Dynamo - Sunday, May 28, at 8 p.m. ET on FS1
LA Galaxy vs. Houston Dynamo - Saturday, June 17, at 11 p.m. ET on Unimas
Houston Dynamo vs. FC Dallas - Friday, June 23, at 9 p.m. ET on Unimas
FC Dallas vs. Houston Dynamo - Wednesday, Aug. 23, at 9 p.m. ET on Unimas
New York City FC vs. Houston Dynamo - Saturday, Sept. 23, at 4 p.m. on Unimas