UEFA Champions League
'Horrible' atmosphere helped Liverpool beat Man City - Oxlade-Chamberlain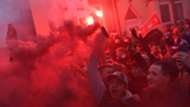 Alex Oxlade-Chamberlain has hailed Liverpool's fans for creating a "horrible" atmosphere at Anfield during the club's 3-0 Champions League victory over Manchester City.
Oxlade-Chamberlain scored a superb long-range goal to give the Reds a 2-0 lead on the night, as Jurgen Klopp's men took control of the tie ahead of next week's second leg at the Etihad Stadium.
City's coach was pelted with bottles before the encounter, as Reds fans greeted the champions-elect with a wall of noise and red smoke.
And Oxlade-Chamberlain, who joined Liverpool from Arsenal in August, believes the result came about as a result of both he and his team-mates on-field efforts and the supporter's off-field antics.
"It was an amazing atmosphere, the best I've ever played in," he said. "You have to give credit to the fans because it is never nice coming to Anfield and hearing that crowd – I've been on the other end of it and it is not easy.
"The fans play a massive part. I've never witnessed anything like that. Coming into the stadium for a game which was not a final it almost set it up to be like a final. It definitely got us going and you could see that. If you are the away team and the crowd gets going like that it is horrible.
"City are an amazing football team but they are only human and you put anyone in a pressure environment in an atmosphere like that maybe it can disturb them.
"I wouldn't say to the extent it did that because they still played some good stuff and dominated the ball but it definitely played a part in the first half. It got us going and it would probably shake anyone up so you have to give fans credit for that."
City can win the Premier League on Saturday, if they defeat Manchester United, while the Reds are attempting to qualify for the Champions League for next season - they currently sit third, 10 points clear of fifth-placed Chelsea.