KPL
High court nullifies FKF suspension of Sam Nyamweya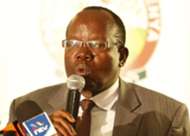 The High Court has lifted suspension of former Football Kenya Federation President Sam Nyamweya from football affairs for 10 years.
Justice Chacha Mwita overturned the decision after FKF failed to respond to Nyamweya's application to quash FKF erroneous decision. FKF told the court they were not ready to proceed with the application by Nyamweya and sought to pursue the main petition.
Nyamweya moved to court challenging his suspension from all football activities in Kenya for a period of 10 years. Nyamweya argued that the decision by FKF to suspend him is malicious and meant to satisfy individual interest. Nyamweya further told the court that he is being targeted for having exercised his constitutional rights to file a case against Nick Mwendwa which is pending before court.
BREAKING: FKF ban former boss Sam Nyamweya
Nick Mwendwa and Robert Muthomi have been named as respondents in the case and have been sued as representatives of FKF. The judge also prohibited Mwendwa and Muthomi from discussing any matter regarding the suspension of Nyamweya at the Annual General Meeting.
In his suit, Nyamweya had claimed that the decision by the federation's new boss to ban him was unreasonable and irritational. Nyamweya says that he was not summoned or given a hearing by FKF and that the decision to suspend him was in bad faith claiming that he is being targeted.
Nyamweya was apprehensive that the country might miss out on hosting 2018 African Nations Championship to the detriment of millions of fans if sanity is not restored.