Bayern München
Heynckes tells potential successor Nagelsmann to stay at Hoffenheim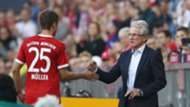 Bayern Munich manager Jupp Heynckes has advised his potential successor Julian Nagelsmann to stay at Hoffenheim. 
Heynckes has taken charge of the Bavarian side as a caretaker until the end of the season, when Bayern will appoint a permanent successor for Carlo Ancelotti. 
The Italian was sacked last month, leading Bayern to apoint Heynckes – who hadn't coached since leaving the club in 2013 – as a temporary placeholder. 
Several candidates for the permanent job have emerged, with Nagelsmann considered one of the favourites after the 30-year-old improbably led Hoffenheim to the qualifying round of this season's Champions League. 
Heynckes, however, thinks that Nagelsmann would be better served gaining more experience rather than jumping straight to Bayern for the 2018-19 campaign.
"Maybe it would be good for Julian Nagelsmann to stay a few years in Hoffenheim and to gain some international experience," Heynckes told Rhein Neckar Zeitung.
"In a smaller club – you can still make mistakes."
Heynckes also made it clear he prefers a German manager to be his successor. 
"I hope for a German coach," Heynckes said. "We have good young coaches ... [who] play a structured, methodical football." 
Nagelsmann has Hoffenheim sitting in fourth place in the current Bundesliga campaign, four points adrift of leaders Borussia Dortmiund.