Opinion
Hearts of Oak must reaffirm GPL relevance vs. Medeama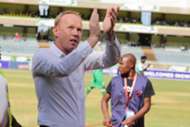 Caf Champions League winners in 2000, Caf Super Cup victors a year later and Caf Confederation Cup champions in 2004; once upon a time it felt like Hearts of Oak ruled Africa. At the time, the Phobians flew among the best, walked with the elite and dined at the table of champions.
A few years on, and as Hearts prepare for Sunday's showdown with Medeama SC, the Accra-based side find themselves in a sorrowful state of devolution, spiced with confusion and laced with despondency - utterly pathetic.
Hearts' last major silverware was the Ghana Premier League triumph in 2009.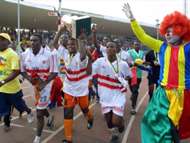 With 19 tiles prior, 2009 was not anything special, but with two continental club appearances since 2008, it only makes sense that the quest to relive the glory days begins with the Ghana Premier League. Fortunately for Ghana's fallen giants, there's a great chance to make another attempt this new season.
During their peak years, Hearts boasted of the likes of Emmanuel Osei Kuffour, Charles Taylor, Ishmael Addo, Bernard Dong-Bortey, Sammy Adjei, et al. The squad of today still stand miles away from the aforementioned, but arguably, their current assembly is one of their best in recent times.
Malik Akowuah was arguably one of the most exciting players on the local scene last season, and his acquisition has been hailed as a massive coup. Bright Lukman, another new addition, was the toast of fans in Cape Coast.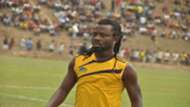 The Phobians did well to retain influential captain Robin Gnagne – arguably the best defender on the local scene – as well as Inusah Musah, whose heroics earned him a call-up to the Black Stars last season. Patrick Razak and Samudeen Ibrahim are, without a doubt, two of the most promising talents in Ghana and their presence, like that of Isaac Mensah, bodes well for the side.
Hearts may have lost experienced duo Mustapha Essuman and goalkeeper Abdoulaye Soulama, but the former's absence would be covered up by the arrival of Akowuah, while goalkeeper Ben Mensah has showed early glimpses that he could be a trusted No.1.
The Phobians' striking department, though, needs a major reinforcement.
On Thursday, Hearts announced the appointment of Scotsman Frank Nuttall as head coach on a two-year deal, drawing excitement in many circles. It's hard to remember when last the appointment of a coach by Hearts saw such unanimous approval.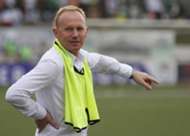 A holder of a Uefa Pro licence and a former deputy coach of Egyptian outfit Zamalek, Nuttall won two league titles and one Super Cup trophy during his time with Gor Mahia between 2014 and 2016.
His CV also includes a fitness-coaching role of the England under-17 team, an assistant coach and head of fitness duty at Scottish club Rangers, and deputy coaching roles at English sides Bristol City, Rotherham United, the China national team and the Qatar Under-23 team.
That said, it is one thing to have a good coach and players, and another thing to get results.
Truth be told, Hearts' off-pitch issues have been their main Achilles heel in recent years. Last season, for instance, the side looked like genuine title contenders, but controversial distractions, for the umpteenth time, reared their ugly head, effectively scuppering their championship chances.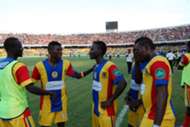 The needless conflicts involving various team officials and departments must be resigned to the past. The hue and cry of past executives and players over neglect and disregard has been disturbing.
The professionalism of management has left much to be desired, and although this season's unveiling of kits and new players in flip-flops at a filling station left more questions than answers, there's still enough time to turn things around.
A traditional club, the Phobians can perpetually count on their numerous fans, and as has been seen over the years, it doesn't take more than a consistent run of three points to win the fans over.
Indeed, the slumber of the mighty Hearts of Oak has been worrying, but with a new season on our hands, it's perhaps, the best time for another throw of the dice. Could they demonstrate that they are an awakening giant against Medeama SC on Sunday?