Transfers
'He can't do whatever he wants' – Sokratis fires warning to Dembele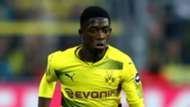 Borussia Dortmund centre-back Sokratis Papastathopoulos has registered his frustration with suspended team-mate Ousmane Dembele. 
Dembele has gone on strike in an attempt to force a move to Barcelona, who have seen bids for the 20-year-old thus far rejected by Dortmund.
Dortmund 17/20 to beat Wolfsburg
Dortmund have responded to Dembele's absence by suspending the France international until the situation is resolved. 
Speaking to Kicker, Sokratis has expressed his displeasure with the way Dembele is handling himself in a difficult situation. 
"Ousmane is a good guy. But he has to understand that no player is bigger than the team," Sokratis said. 
"He can't do whatever he wants and should take Pierre-Emerick Aubameyang as an example.
"Auba also could possibly leave. But he behaves professionally in every training and every game and gives his best. In the first round of the cup he scored three goals.
"Ousmane wasn't there. He should not forget that he still has a long-term contract at Dortmund."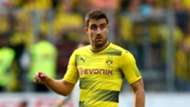 If the situation is resolved without Dembele moving to Barcelona, Sokratis indicated the attacker would have plenty of work to do in order to make amends. 
"At first he has to get in touch with us and come to the training again," Sokratis said. "Then we will see.
Busquets wants signings to fill Neymar void
"Ousmane has given us very much. He is a player who makes the difference. We need these kind of players.
"But we also need players who don't exclude theirselves and who want to be part of our family. Apparently Ousmane doesn't want that."