Mexico
Gutierrez looking to take advantage of Mexico minutes after PSV inactivity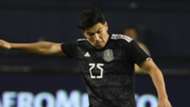 Erick Gutierrez was back on the field Friday, running, passing and defending. He was where he is supposed to be. Too often this season, "Guti" has been stuck to the bench.
The midfielder linked up with his former Pachuca teammate Hirving Lozano with a move to PSV late in the transfer window. At first, things went well. Gutierrez often made cameos as a substitute, scoring three goals in Eredivisie play and helping create several goals. As time has gone on, PSV's schedule has become less intense. Guti's minutes have plummeted, with only two league appearances to his name adding up to 80 total minutes after the winter break.
Despite the inaction, Mexico manager Tata Martino is giving him an opportunity with El Tri. The Argentine coach brought Gutierrez on in the 75th minute with his first substitution and likely will hand the 23-year-old a start Tuesday against Paraguay. That faith from Martino is serving as a big boost for Gutierrez after a frustrating start to 2019.
"It's really important. Like you said, I haven't had the minutes I want in Europe but here the manager has given me an opportunity by selecting me, by giving me minutes today and I'm trying to take advantage of those minutes so I can draw his eye," he told Goal after El Tri's 3-1 win over Chile. "I haven't had the continuity I need in Holland. Here he has me up-close. I hope he knows he can count on me, and I'll do things as well as I can."
No one doubts that Gutierrez has talent, but his Mexico future is still cloudy. Andres Guardado fits the same profile as Gutierrez and looks to have a stranglehold on the left interior midfield position ahead of the Gold Cup. Carlos Rodriguez performed well in his debut as the other interior midfielder Friday and Martino said Hector Herrera would've started had the Porto player been involved in this camp.
As Rodriguez's start showed, Martino isn't shy about giving players based in Liga MX an opportunity. Guti's place in the Mexico team is even more in doubt after several reports emerged last week that while Martino wanted almost everyone in the player pool to get a look in these March matches, the Gold Cup roster would be composed only of players in a good rhythm with their club teams. Guti is aware he can't simply rely on being on a Champions League roster to keep getting called in.
"I think we're all equal. It really doesn't matter if you're in Europe or you're in Liga MX," Gutierrez said. "That's good because it generates a healthy competition. It's demanding of everyone, everyone wants a place in the team. There's only one national team and we're all together here and that's really important to be the best. If you're on the bench you also have to support."
Unfortunately for Gutierrez, he's become all too familiar with how to be a positive player on the bench. Gutierrez was a late addition to Mexico's World Cup roster and was one of only two field players not to play a minute in Russia. He signed a five-year deal with PSV, and a resurgence isn't out of the question. For now, though, it's tough to see him getting back on the field ahead of PSV starter Jorrit Hendrix or teenage sensation Martin Sadilek.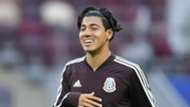 It's been a breath of fresh air for Gutierrez to be back among friends with the national team and to work with Martino, who has passed on a number of encouraging words to the midfielder.
"Working with Martino is really good, honestly. He really makes you feel confident," Gutierrez said. "He knows a lot, and while the training sessions are joyful they're also intense. We've all got a lot of confidence and he really gives you a lot of different weapons to be able to be good on the field. That's fundamental."
As an interior midfielder, Gutierrez profiles well for what Martino is looking for at that position. "I think the interiors, you saw that they get into the attack a lot, they come and go. That's fundamental in the position. That's what he says, and we have to do it if we want to be included!" Guti said with a laugh.
But Martino also wants someone who is playing competitive games, and at the moment that label doesn't fit Gutierrez.
If he can impress with his time against Paraguay, he should feel secure that he will get future call-ups from the new manager. He must capitalize on these minutes, though. His playing time elsewhere is too scarce to let this opportunity slip away.