Guardiola
'Disappointed' Guardiola hits out at Argentina football president over 'fat wallet' claims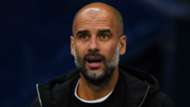 Pep Guardiola has hit out at the head of the Argentine Football Association after he claimed the Manchester City boss has a "fat wallet".
Claudio Tapia, the AFA president, claimed this week that he discovered that Guardiola's salary was unmatchable as he attempted to recruit the Catalan to replace Jorge Sampaoli, who was sacked following Argentina's disappointing World Cup campaign.
"We tried to find out about getting Guardiola but it was very difficult," Tapia told TyC Sports. "Very difficult... a fat wallet. Yes, we found out something. It was impossible."
Guardiola, however, has dismissed the claims, insisting that he was never contacted by anybody at the AFA, and that Tapia could not and should not have mentioned his salary.
"So no, I'm a little bit disappointed because the president of the AFA cannot say that he could not be in contact with Pep because his salary is amazing," the City boss said at his Friday press conference. 
"To know that he has to know my salary. Secondly he has to know that I know exactly that when you are with a national team the approach is completely different. And the third thing, the most important, is that nobody contacted me.
"Of course because I have a contract and I want to stay here until the end. It was not correct to say the reason why [due to his salary]. 
"And another one: for the Argentina national team, the manager has to be Argentine. There are many, and they are really good, so I'm not going to train Argentina. I don't know what happens in the future but don't say, 'I don't go with Pep because of the salary', because for that he has to talk to me and know everything. Next time he will do better."
Having already won the Community Shield at Wembley, City begin the defence of their Premier League title on Sunday as they travel to Arsenal.