Manchester City
'Guardiola has changed Aguero' - former Man City striker Rosler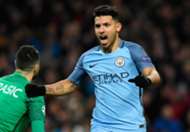 Sergio Aguero has undergone a "massive change" in his game at Manchester City under the guidance of Pep Guardiola, says Uwe Rosler.
The Argentine has forged a reputation as one of the most fearsome frontmen in world football.
Top five teenage stars at Man City
He has always been about speed of thought and movement in and around the penalty area, with his predatory instincts complemented by accomplished finishing.
All of those traits remain part of his armoury, but Aguero has been tasked by Guardiola with offering more than merely a goal threat.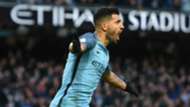 The Catalan's teams are a sum of their parts, rather than reliant on certain individuals, and he took the brave decision to drop his main marksman earlier in the season.
Aguero has responded to the challenge and the subsequent transfer rumours by tweaking his approach, with the 28-year-old now a more rounded frontman – but one who has still managed 25 goals in all competitions.
Yaya Toure: Defending is annoying
Former City striker Rosler told Goals on Sunday: "When you compare Aguero from last season to this season, you can see a massive change.
"A change in terms of courage, high-speed running and a willingness to counter-press. Plus, he still scores goals. You can see Aguero is trying to buy into the ideals of Guardiola.
"What he does off the ball this year, is far more than he did last year."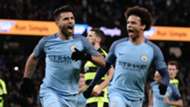 Aguero has reiterated on a regular basis that he has no intention of leaving City and Rosler believes the club should be doing all they can to ensure that the South American stays put.
He added: "I would never lose him - I'm a big Aguero fan. "When you have someone like him in your squad and you're aiming for titles on every level, you can't let somebody go like him.
City face nervy De Bruyne wait
"In a club like Manchester City, there is no player certain to start every game. You need to be competitive on all fronts. There has to be rotation, especially when you see the pace at which Manchester City are playing at now.
"The pace of their game with Liverpool was unbelievable, breath-taking. You need two world-class No 9's, and Aguero is one of them."