KPL
Gor Mahia financial immodesty exposed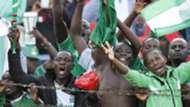 Top Gor Mahia officials have been accused of misusing club funds.
Gor Mahia Chief Executive Officer (CEO) Lordvick Aduda and head of finance Sally Bolo (treasurer), have both been accused of misusing their positions to defraud the club and players of their hard earned money.
Gor Mahia organizing secretary, Judith Nyangi has come out to expose the deep rot in K'Ogalo financial coffers, a statement she promised to defend even if it will cost her job.
"Dear K'Ogalo die-hards, when you elected me, you trusted and believed in me and that's why I got the most votes. You elected me to streamline and expose any rot," Nyangi wrote on a long post.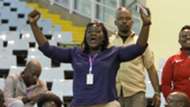 Sally Bolo (Gor Mahia treasurer)
"The treasurer had been misusing club's money the way she wants. She has been colluding with this other cartel called Aduda to deduct player's cash without the knowledge of the Executive Committee."
The boardroom wars and bad practices are now spilling to the pitch with reports that Gor Mahi players are yet to be paid match allowances.
Goal authoritatively reported that K'Ogalo players sat out of Tuesday training sessions ahead of their mid-week match against Chemelil Sugar in Kisumu on Thursday.
Nyangi also accused Bolo and Aduda whom she referred to as 'cartels of doing business with players welfare' whenever the team travels out of the city.
"In our last EC meeting, we resolved that after our home match no payments will be made at the stadium but as you can see the same trend was repeated.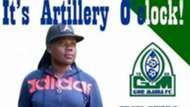 Judith Nyangi (Organizing Secretary)
"On our last match, I was to be in Kisumu by Friday to hype the match through road show and radio stations passed…while in Kisumu everything had been arranged by the above cartels, mine was to enter the stadia Russia area and enjoy my boys play.
"When I asked for money for road show Sally told me that the money is normally sent to Harvey Mangla, is this true and when did you take my position?" she posed.
"As you can remember, during our Sofapaka match in Meru, it was passed by the EC that I travel a day before and do hotel arrangements for the team. While I was there, Sally insisted that there was a hotel she had settled on. This other big cartel Moses Libamba was in the deal. The hotel was exactly like Sabina Joy with a bar down and rooms upstairs and plenty of 'malightskin'.
Attempts to get through to Aduda and Sally Bolo bore no fruit as their phones went answered.