WAFU Cup of Nations
Goalkeeper Damba on Ghana's penalty heartache in tournaments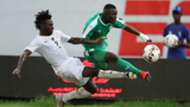 Former Ghana shot-stopper Abukari Damba has termed the nation's penalty shoot-out woes as a perennial problem following their recent setback at the Wafu Cup of Nations.
Yet another time, the West Africans fell in a shoot-out at a major international tournament, this time going down 3-1 to hosts Senegal in the final of the championship on Sunday.
"I will not term it [consistent woes] as a problem. It's a perennial challenge and we admit that historically we've not done well. A penalty shoot-out in itself should be an integral part of every training session," Damba told Ghanaweb.
"Penalty shoot-outs require a lot of skill and quality but overall it requires a lot of confidence.
"You can be the best player but still miss out during shoot-outs because of certain reasons which go beyond coaches sometimes.
"Coaches can pick the best of players, they perform well [in training] but during shoot-outs they miss out and we can set examples of top-class players who missed out at the World Cup."
In Sunday's shoot-out, Ghana's first two players - Augustine Okrah and Fatawu Mohammed - failed to convert. After Appiah McCarthy scored, Justice Blay's kick was saved, handing Senegal the trophy.
"The third shooter [Blay] of the penalties at the just ended Wafu Cup, it was not something good to see," Damba added.
"I don't think he approached it with all the seriousness required. He did not show the desire to put the ball in the net.
"If you approach the ball with all the seriousness and you miss it, everybody knows that you tried your best but somehow you just missed it.
"You must know you are representing the country and it is serious business."
Ghana's best appearance at the Fifa World Cup ended in a shoot-out defeat to Uruguay in 2010.
In 2014, the home-based Black Stars also lost the final of the African Nations Championship (Chan) to Libya.
The West Africans' last berth in the final of the Africa Cup of Nations (Afcon) also ended in disappointment after another round of penalties.