World Cup
Goal Users back Brazil & Germany for World Cup - What YOU think ahead of Russia 2018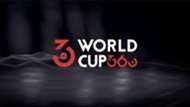 With our World Cup 360 campaign off and running, Goal have assembled some of the most passionate football fans from across the world to form a global Fan Panel.
Made up of devoted followers of the beautiful game of all ages, genders and ethnicities, hailing from all four corners of the globe, Goal are desperate to ensure fans' voices are heard ahead of Russia 2018.
The initiative provides supporters a chance to share their thoughts and feelings on the world's most popular sport, ranging from topics surrounding the upcoming World Cup to the contentious transfer window.
60 fans in 6 key regions – including Africa, Europe, South America and North America – will be surveyed periodically in the lead up to the World Cup.
And this week, following an extraordinary climax to World Cup qualifying, we asked them for their opinions on the process of making it to the big show.
Check out the results and to discover if your sentiments are echoed by your fellow football fans, both home and abroad.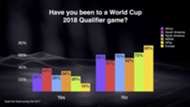 First off, we asked who had attended a World Cup 2018 qualifier, and the results were intriguing if predictable. Since revamping its format to a single group in 1996, South America has given birth to the most competitive qualification process in tournament history, and it came as little surprise that Fan Panel members from that region showed the highest attendance in qualifiers.
Conversely, qualification in Europe has become a less of a pull for fans and perhaps many were saving their pennies for Russia. Match-attendance of our European Fan Panel members was the lowest with a whopping 85% having not attended a stadium during the process.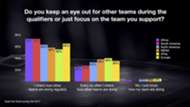 Our entire Fan Panel was unanimous in their appreciation of qualifiers from around the world, with over 50% from every region saying they check regularly how other nations are getting on. 
Less than 5% across the board said they had zero interest in other regions. From Egypt and Syria to Panama, Honduras and the ultimate shock eliminations of the Netherlands, Chile and USA, our fan panel agree that World Cup qualifiers are a genuine worldwide event.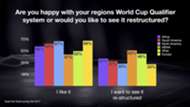 World Cup qualifying is heading for changes with the planned expansion of the finals tournament to 48 teams, though for now that largely looks like simply adding an extra slot for various nations.
The majority of the Fan Panel agreed they are happy with the current system, with European and North American followers most satisfied with their current formats – likely for very different reasons.
European qualification has invariably seen the bigger nations book their place in the finals with little trouble, while CONCACAF has once again proved it is close to rivalling CONMEBOL for competitiveness at the top, and fans seem to enjoy regular meeting between the big hitters in the infamous 'Hex' round.
Interestingly, most resistance came from the MENA and APAC regions, with the former split across African and Asian processes.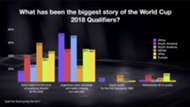 Argentina's plight and the prospect of a World Cup without Lionel Messi was predicatably felt to be the biggest story of the qualification process so far.
MENA were unsurprisingly following the incredible Syria story closely but they, too, kept a keen eye on South America. 
Just half of our South American fans showed overwhelming interest in Messi and Argentina, however, likely because they were all mostly concerned with their own chances of qualification.
In Europe, meanwhile, fans were extremely interested in the fairytale that so nearly was for Syria, perhaps due to a keener political interest in the country's plight. Europeans were certainly more interested in that than they were the Netherlands, whose failure to qualify came as no huge shock considering their fall from grace since 2014.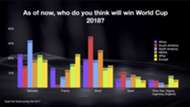 South Americans unsurprisingly opted for Brazil to lift the trophy in Russia, likely because they had seen first-hand how new coach Tite had revolutionised the squad in the year since his arrival. They seem confident the Selecao can repeat its feat of being the only South American nation in history to win the trophy in Europe – back in Sweden 1958.
Europeans, meanwhile, weren't too put off by France's showing in the Euro 2016 final, confident a wildly talented squad will reach its nadir in Russia. 
Germany were also strong favourites, tipped by APAC, African and North American followers, but interestingly not in South America where just 23% went with the first nation to take a trophy out of the continent after it hosted a World Cup.