Transfers
Gio dos Santos says brother Jonathan and Galaxy both interested in a move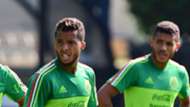 MANHATTAN BEACH, Calif. — It was a stock question several of Major League Soccer's best players were asked Tuesday during a series of roundtable interviews: If you could bring any player from outside MLS into the league, who would you bring?
Lionel Messi was the most popular choice, while Cristiano Ronaldo failed to muster a mention. Even Zlatan Ibrahimovic earned a nod. The question seemed to puzzle LA Galaxy star Giovani dos Santos briefly, before he came up with a logical answer.
"One player? Wow, that's difficult because there are a lot of good players who could come to MLS and help MLS," Dos Santos said. "I will say my brother Jonathan."
The MLS Wrap: Danladi's delayed arrival finally happens, homegrown player happenings, and more
Dos Santos' reply came one week after Goal reported that the LA Galaxy were lining up a transfer bid for Jonathan dos Santos as a designated player. Giovani confirmed that there is interest from both his brother and the Galaxy for a move to be made, but said no deal is in place or in the works just yet.
"We don't know. There's interest on both sides, it's been discussed, but as of today there's no answer," Dos Santos said. "He's still a Villarreal player, so we'll wait to see what happens.
"It's been always my dream, and his dream, to play on the same team, and there's a chance. Hopefully soon we can be together."
The Galaxy currently have two designated player slots available after the departures of Robbie Keane and Steven Gerrard. Jermaine Jones is in negotiations to sign with the Galaxy, but isn't expected to be a DP signing.
"We've talked about it, and I know that he has a desire to play with me in LA some day," Giovani said of his brother. "I know there's interest from the (Galaxy) as well, but he's a Villarreal player so there's nothing concrete at the moment."
Jonathan dos Santos is enjoying a good season with La Liga side Villarreal, and the 26-year-old recently offered up a similar-sounding response to his brother when asked about the possibility of joining the Galaxy.
"Right now I'm good at Villarreal, but in soccer you never know what's going to happen," Jonathan told Marca last week. "I would love to go to Mexico or to the United States, always alongside my brother. Our dream is to make history on a team, both of us together."