Ghana
GFA to ring changes in Black Stars backroom staff, says Afriyie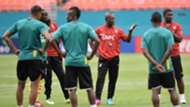 Ghana Football Association vice president George Afriyie has defended the decision to appoint Kwesi Appiah as the Black Stars coach and says there will be new faces in the backroom staff under the former Al Khartoum manager.
Appiah, 56, was handed a two-year deal three weeks ago and is expected to begin work on May 1.
"Kwesi Appiah is the right coach for Ghana looking at the current circumstances. What is important now is that Ghana Football Association have agreed to make changes in the backroom staff [which Avram Grant left behind]," Afriyie told Royal TV.
"We have the medical and the technical aspect so it will be necessary to sit down with Appiah on the changes. We will not sabotage any decisions from him but we cannot also allow him to bring any coach he thinks can help his course.
"The GFA must be involved in such crucial decisions because we are planning for the future. We need someone who can fill the void when he is not around or has landed a lucrative contract in future which may be more than what he is about to have and is ready to leave," he said.
He added: "If coaches chose their assistants without any input from the GFA in the past, then Appiah wouldn't have become an assistant coach under Claude Le Roy. This is because the Frenchman could've said that he will bring his own assistant to feel secure.
"Ghana FA is always involved in such key decisions because we want to groom one of our own coaches for the future. We can't leave the coach to do whatever he wishes concerning his backroom. Let me emphasis that we will scrutinise Appiah's recommendations and decisions including certifications and experiences of those he brings on board."
Goal understand that former Black Stars captain Stephen Appiah, Richard Kingson and former Cameroon assistant coach Ibrahim Tanko are likely to form part of the new technical team.