Bundesliga
Frankfurt boss backs Boateng's big suggestion on racism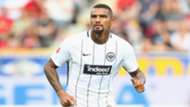 Eintracht Frankfurt manager Niko Kovac sides with Kevin-Prince Boateng's call for the use of video technology to help fight racism.
Boateng, a German-born Ghana international, has been a lead player in the quest to kick the canker out of football.
A guest of the United Nations for its International Day for the Elimination of Racial Discrimination, the attacker believes video technology, now used in some major competitions to review key match decisions, could be deployed to identify fans who perpetuate racist abuse at games.
"I am someone who stands for the fact that we are all the same, no matter where we come from, how we look or which religion we belong to," Kovac told the media.
"Prince's [suggestion], I do not know if this is so feasible.
"But I believe that people who express themselves [in a] racist [manner] must be tracked, so I agree with him.
"Prince has put his finger in the wound, and we should all work on daily basis to make all men equal."
In 2013, Boateng, then on the books of AC Milan, was a victim of racist abuse by fans during a friendly game with lower tier side Pro Patria.
The Black Star, born to a Ghanaian father and a German mother, reacted by kicking the ball into the stands before walking off the pitch in anger.
His teammates followed him off the pitch in support, prompting a premature end to the game.