Opinion
Coleman the unfortunate victim in "war games" between Ireland and Wales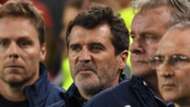 ---
COMMENT
---
Roy Keane – Ireland's assistant manager – was asked before his team's World Cup qualification match against Wales in Dublin on Friday night how his players would counteract the threat of Real Madrid superstar Gareth Bale. 
O'Shea: I was lucky just to need stitches
"Tackle him, hit him…fairly. Tackling is part of the bloody game," replied Keane, who in 2001 sent Marc Overmars flying in the first minute of a crucial World Cup qualifier against The Netherlands.
James McClean duly followed Keane's instructions and hit Bale with one early on at the Aviva. That kind of tackle is designed to intimidate. It was a clean challenge and elicited a favourable cheer from Irish fans. It's what they came for. He didn't foul Bale but the message was clear. 
Different teams have conjured different methods to deal with Bale and Ireland planned to stop him with intimidation and aggressive challenges. Their assistant manager made that plain before the start. 
Neil Taylor – himself a broken leg victim once upon a time – deserves every bit of the opprobrium coming his way for a lunge that left Seamus Coleman inhaling oxygen on a stretcher after suffering a leg fracture. 
Taylor 'despondent' after horror tackle on Coleman
But this was the only way a game like this could end; a natural climax to an occasion that the Irish themselves designed.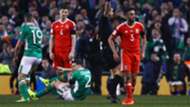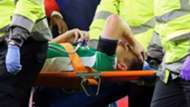 Shane Long could have been sent off for an elbow on the brow of his marker Ashley Williams. Glenn Whelan hit his Stoke City club mate Joe Allen with a similar one and the Welsh were outraged by that. 
Suspended Bale protests O'Shea booking
They did not get justice there – only a red card would have ensured it – and so took the law into their own hands. The tension escalated until the only available release was what transpired between Taylor and Coleman shortly after Bale had clattered John O'Shea.
"It was a typical derby," Wales manager Chris Coleman said after when facing the Irish press. "Your boys are not coming off there with halos on their heads." 
He was right to say that. He has been accused of "whataboutery" with that comment but at no stage did he actually attempt to defend Taylor's tackle. What he was doing was emphasising that the Irish had willingly indulged in this kind of behaviour from minute one. 
Wales responded to the Irish violence and for that they should conduct some soul searching of their own; they were dragged into a dirty fight. 
With his comments before the game, Keane ensured his players would feel like they were doing their jobs properly when hitting their Welsh counterparts. But Keane isn't the one out there any more putting his body at risk. He's asking other people to do it in his place. And his words of bravado have had consequence.
Long concerned after Coleman injury 
Yes, the money is good but careers are not only short but precarious. No other sport has the potential to leave Coleman's leg and livelihood hanging as it did on Friday night. He was the unfortunate casualty in a petty war game.