Primera División
Focus on young Asian players, suggests Espanyol striker Leo Baptistao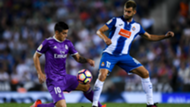 Spain is known to produce some of the best young talents in the world. In fact, the Spanish national team established a hegemony in international football in the recent past by winning the Euro 2008, FIFA World Cup 2010 and Euro 2012. 
Understandably, Spain is one of the favourite destinations for young aspiring footballers to hone and develop their talent. 
Espanyol's Brazilian striker Leo Baptistao is the right person when it comes to this. This 25-year-old player came to Spain a decade ago from Brazil to fulfil his ambition to become a professional footballer. Baptistao came through the youth ranks at Rayo Vallecano before moving to Atletico Madrid, and now is at Espanyol.
"I started my career at a variety of Spanish academies since the age of 15. At this point, I can already feel the difference between the game in Brazil and the technical level and quality of Europe," he said of the experience of moving at a young age.
Baptistao was speaking to Goal after Espanyol's 1-0 win over Real Madrid on 27th February, thanks to the La Liga Experience program which gave a number of fans from four South-East Asian countries who won a quiz organised by beIN SPORTS a chance to travel to Spain.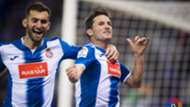 According to Baptistao, moving to Europe at an early age is highly recommended.
"Having a good team of cadets is fundamental because it trains kids from an early age and transforms them to recognize European values and methodology," says the Santos-born player.
Though one must remember the FIFA rules that only allow the transfer of professional players over a certain age limit in each country. However, Baptistao's implied point is that football coaching should be done at an early age with quality training methods.
"My advice is the advice I always repeat for myself - there is no pressure on me, I just want to play football. It is my passion and I put in the hard work," said Baptistao.
"Cultural differences are a big thing when I move here, especially the language, but it's all little things. You should work hard and enjoy."
"I've been to Asia earlier this season. The fans there are great and the football culture is great. Greetings from Spain!"
Catch every LaLiga matches on beIN SPORTS CONNECT. Now available on Google Play Store and App Store. Please subscribe to www.connect.beinsports.com.