League Cup
First box ticked, but plenty still to do for Mourinho at Man Utd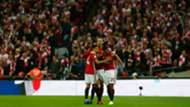 ---
COMMENT
---
In the end, it was won by the savvy and experience of Manchester United, but for long periods of the EFL Cup final there was a very real threat of Southampton lifting a first major trophy in 41 years. Jose Mourinho's admission that his side were second best was so fulsome it bordered on patronising, but it was a point well made all the same.
Messi, Ronaldo & the Golden Shoe leaders
As wonderful a cup final it was, Sunday's Wembley clash was hardly an epic United performance. And while there was a clear difference in energy levels due to the Red Devils' heavy workload in recent weeks at a time when Southampton have been on holiday, this was a reminder of how far United still have to come as much as it was a barometer of Mourinho's work to this point.
The Portuguese became the first United manager to win a trophy in his debut season in the job, underlining the growing belief that Mourinho is quickly beginning to steer the ship on course. There was a professionalism and a doggedness which is fairly typical of Mourinho sides, and it was no surprise that the game was won by his talisman.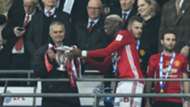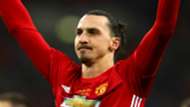 Just as happened on many an occasion at Chelsea with Didier Drogba or Diego Costa, and at Inter with Zlatan Ibrahimovic or Diego Milito, it was that ability of one star front-man to keep his cool at the right moment which turned a passable performance into a great one. Ibrahimovic has scored 26 goals now this season after his Wembley brace, and he has quickly made a habit of winning games for United.
Paul Pogba's poor contribution in the first half was followed by a far more involved shift after the break, while Mourinho's decision to bring on Michael Carrick at half-time proved decisive as the former England midfielder added some authority to midfield.
Did Ibrahimovic just have a brutal dig at Arsenal?
It underlined the organisational tone to most of United's positives on the day, while the fact they contributed to such a spectacle will not be lost on anyone who endured last season under Louis van Gaal.
But there were also areas of great worry on Sunday. Marcos Rojo was torn apart time and again, bringing into greater focus Mourinho's current struggle in finding a long-term solution at left-back. Luke Shaw's ongoing issues have promoted Rojo, Daley Blind and Matteo Darmian up the pecking order but none have looked set to nail down the position.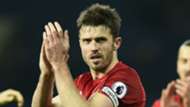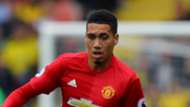 The centre-half pairing of Eric Bailly and Chris Smalling looked slow and disorganised too, with the lack of a shield before Carrick's entrance leaving them exposed to both pace and strength with some regularity. Between them they never really got a handle on Manolo Gabbiadini, while Nathan Redmond also found too much space in front of the defence at times. This was one of the biggest possible advertisements for a quick resolution to the chase for Benfica's Victor Lindelof while also saying much about the need to somehow find a young Michael Carrick sometime soon.
Van Gaal might well have secured a first major trophy in the post-Sir Alex Ferguson era at United last May when lifting the FA Cup in his final game in charge, but Mourinho's side really have the feel of a trophy-winning machine in the making. There is an aura beginning to build around the club again, but there must clearly be further work done before they can be called anything approaching a finished article.
Liverpool are right not to look for shortcuts
Mourinho has claimed regularly that it will be in year two that United can truly start to challenge for a league title, but glaring issues at left-back, centre-back and central midfield all need to be addressed if that is to be a serious goal. And then there's also the need to persuade Ibrahimovic that he can keep producing at the age of 36.
The Portuguese insisted after the game that he will never beg a player, Zlatan included, to stay at a club, and if the Swede were to decide against staying for a second season it would be another area they would need to strengthen.
As much as Marcus Rashford and Anthony Martial would stick their hands up to take on the main striker role, to play the way Mourinho likes his football United really need a tour de force up top in the mould of Ibrahimovic.
The EFL Cup might be just the start of United's major trophy haul this season. They are favourites to win the Europa League and have as good a chance as anybody of stopping Chelsea from recording a domestic double.
United look ready to graft their way through as many games as it will take to make them as successful as possible, it is just a question of whether they can keep riding their luck as they did against Southampton and continue to get away with it. The leaks they sprung at Wembley need to be filled quickly.
Trophy number one is in the bag, but it is the Manchester United way – and the Mourinho way – to always think about the next silverware. And when it comes to making this anything like a complete United side, Mourinho still clearly has a hell of a lot of work to do.