Manchester United
Ferguson returns to Old Trafford for Man Utd vs Wolves after recovering from brain surgery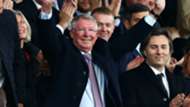 Sir Alex Ferguson was at Old Trafford to watch Manchester United on Saturday for the first time since his health scare in May.
The 76-year-old was pictured arriving at the ground ahead of United's match against Wolves in the Premier League.
Ferguson has largely remained out of the public eye following a brain haemorrhage that required emergency surgery.
Speaking about his return and current health, Ferguson told MUTV : "I'm really good. Obviously, it's been a long journey. I'm gradually making steps forward, doing what my surgeon tells me and the doctors tell me so, yeah, I'm really good.
"I'm a bit nervous (about being back at Old Trafford) to be honest with you, maybe a bit tense really because I think my last game was Arsenal back in April some time, so it's a long time. But it's great to be back and I just hope we get a win today."
Asked if he had missed attending matches at Old Trafford, Ferguson joked: "I don't miss this! This is the press room where I used to hammer these press guys when they ask their stupid questions!
"But it's great to get back to the stadium and it's going to be a bit emotional for me really when the game gets started and things like that but it had to happen sometime and I've been looking forward to it. The important thing was getting the right time and the right rest before I came to a game.
"It's bound to be (an emotional day), particularly when I sit in the [directors'] box, that will obviously be something, but I'll be glad to get it over with and get the game started and enjoy it."
Welcome back to Old Trafford, Sir Alex. #MUFC pic.twitter.com/RpDnitdrJZ

— Manchester United (@ManUtd) September 22, 2018
He appeared in a video in July to thank hospital staff for saving his life and is sure to receive a rapturous reception from fans of the club he led to 13 league titles.
Speaking in the video released in July , Ferguson said: "Believe me, without those people, who gave me such great care, I would not be sitting here today.
"So, thank you from me and my family. Thank you very much.
"It is has made me feel so humble has all the messages I've had from all over the world, wishing me the best. The good wishes do resonate very, very strongly with me, so thank you for that support you've given me.
"Lastly, I'll be back later in the season to watch the team. In the meantime, all the best to Jose [Mourinho] and the players."
Ferguson had also appeared on video to deliver a message to Paul Scholes at a charity dinner in honour of the former United midfielder.
"When he joined us as a little runt of a lad at 13 years of age he was about four foot 10 or something and we had great doubts whether he'd grow," Ferguson said at the event organised by the Association of Former Manchester United Players.
"Fortunately he did and he became the player we all saw. Over 718 games and 155 goals, absolutely fantastic career.
"And bearing in mind he had some injury problems which would have put him alongside Ryan [Giggs] and Sir Bobby [Charlton] I am sure of that.
"That apart, what a career... and the goals he scored – unbelievable.
"He was the absolute perfect player and no matter how many great players we have had in the past at Manchester United, Paul sits in the great pantheon of those players, there is no question about that."
United are seeking a fourth successive competitive victory following wins over Burnley and Watford in the Premier League, and Young Boys in the Champions League in midweek.