FA Cup
Ramsay enjoying the Malaysian experience via Felda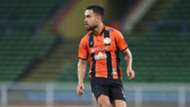 When the Malaysian league dedicated one import slot Southeast Asia this season, B. Sathianathan and Felda United wasted no time to get in Iain Ramsay. The 30-year-old midfielder is highly experienced and bring with his a wealth of knowledge gained over various leagues in Asia.
Having started his career back in Australia where Ramsay was born, Adelaide United and Melbourne City were just some of the clubs that he has featured for. Making his decision back in 2015 to play for Philippines, the birth country of his mother, Ramsay is of course a familiar sight in these parts of the world.
In fact, playing for Ceres-Negros FC last season in the Philipiines, it was probably there that he came to the attention of Felda, whom his team faced in the group stage of the 2017 AFC Cup. Fast forward a year later, and Ramsay is absolutely loving life here in Malaysia
"So far I've been really enjoying it. Malaysia has been a really nice place to live and the boys have been very welcoming. Obviously when you're winnng, everything is so much better. I have to have a lot of success with the club."
"With Malaysia, the fans and the league is no surprise for me. I know fellow Australians who have come here and they have told me things. I've followed their career over here. The support here is very passionate and I'm very happy to be part of it," Ramsay told Goal.
He was part of Sathianathan's Felda side that handed Felcra FC a 5-2 beating in the second round of the FA Cup at Shah Alam Stadium on Saturday night. The left footer was left impressed with what Felcra offered and was delighted to still be part of the competition.
"Happy with the result. Felcra is not an easy team. They are a very physical team with a really dominant striker who's really strong. You can see that they play very direct. The cup competition is different, every day is like a final. Whoever turn up on the day will come away with the win."
"Obviously winning gives you confidence. To have won four games in the league, it has been a great start. But it is still very early and we are trying to improve. The main thing is that we have a winning mentality at the club and we want to win every game.
"Getting promoted to the Super League is the goal. There's good depth in the squad and I believe we can go a long way," added Ramsay.
Currently top of the Premier League with maximum points after four matches, it doesn't look like Felda's stay in the second division will be more than just one season and with Ramsay part of their arsenal, Felda could yet spring a surprise or two in the FA Cup competition.