Kaizer Chiefs
FEATURE: Who is Kaizer Chiefs technical advisor Rob Hutting?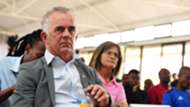 Kaizer Chiefs on Wednesday unveiled Rob Hutting as their new technical advisor in front of the media at Naturena on a six-month contract.
The announcement came as a shock when it was first made on Tuesday afternoon, and the majority of their fans were left with more questions than answers.
Goal tries to answer the question everyone has been asking since the appointment was made official: Who is Hutting?
---
THE PLAYER
---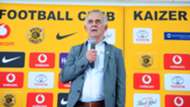 Hutting was born on the 13th of August 1955 in the Netherlands. He started playing football at a youth level just before his 10th birthday in 1965.
He played junior football for eight years before his biggest breakthrough came in 1973 where he was signed by Dutch club, NEC.
After struggling for game time in his first three years at NEC, Hutting was sent out to Willem II on a season-long loan deal.
Hutting was a versatile player who played both in midfield and upfront, and after impressing at Willem II, he was signed by Fortuna Sittard in 1976.
He made a name for himself at Sittard, the same club that is now coached by Nigeria legend Sunday Oliseh. Hutting made close to 200 appearances in eight seasons between 1976 and 1982, and scored 40 goals.
His second last season at Sittard wasn't as successful though, and in 1981, Hutting was again on the road, joining Belgian outfit KFC Diest on a season-long loan deal.
Things took a nosedive for him soon afterwards. He moved to another Belgian club, K. Beringen FC on a three-year deal in 1982.
At the start of the 1983/84, Hutting was loaned out to Helmond Sport, before being recalled for the 1985/86 campaign. He retired from professional football towards the end of 1985 to venture into coaching.
---
THE MANAGER
---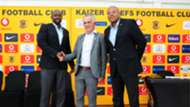 It is worth noting that Hutting has never coached at a professional level. His first coaching gig was at KVC Oranje - an amateur club in the Netherlands - in 1985.
In 1991, Hutting returned to Belgian to join Maaseik FC as a player/coach, but he lasted for a season without winning any major silverware.
He then coached a number of amateur clubs, including VV Bunde, RKVV Waubach and Borrusia Brand among others between 1993 and 2000.
Hutting was again snapped up by another amateur club (SV Venray) in the Netherlands in 2000, but his tenure lasted for a year, and after two years without a coaching job, he went back to Germany to take over the reins at Borussia Freialdenhoven, which is currently playing in the Oberliga; the fifth tier of the German football league system.
VV Walram roped him in as their manager in 2004, but he left a year later to join Wegberg-Beeck where also lasted for a single season.
There's no trace of Hutting in the coaching circles between 2006 and 2017.
In April 2017, Hutting resurfaced at German outfit Germania Teveren, replacing Dave Roemgens as the club's manager on an interim basis until 11th of June 2017.
---
THE CONTROVERSY
---
In 2006, Hutting left his position as manager of Wegberg-Beeck after he was 'promised' a coaching job at former club Fortuna Sittard for the 2006/07 season.
However, two months before the commencement of his 'contract' with Fortuna, Hutting received the news that he would no longer be considered for the job.
At the time, Fortuna appointed Frans Körver as their new manager, and that didn't sit well with Hutting, who threatened to sue the Dutch outfit, claiming that he had a verbal agreement to take over as the club's manager.
"I will not leave it here," Hutting told Algemeen Dagblad at the time. "I'm going to court, because Fortuna denies having a contract with me. We only had a verbal agreement, and it is also valid," he said.
"I think I am still the right man for Fortuna. I really enjoy working as head coach," concluded Hutting.
 Hutting was never successful in his attempt to try and force the deal to happen.