Selangor
'FAS training complex is ours' - Selangor state government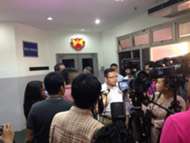 ---
BY        ZULHILMI ZAINAL       Follow on Twitter
---
The Selangor state government has defended its decision not to hand over a building complex initially intended as the Selangor FA (FAS') facility.
Its youth, sports, culture and entreprenuer development executive committee Amirudin Shari claimed that the decision was made because FAS previously had not returned the investment made by the state in the association.
"The state administration prior to Dato' Seri Azmin Ali's leadership has helped recover the investments that should have been obtained from Selangor.
"FAS has many assets but they were invested by certain parties. As a result of the state's efforts, the complex was built and handed over to us.
"It is better for us to decide its future, rather than letting it go to waste," said Amirudin as quoted by state-owned publication Selangorkini on Sunday.
He also warned FAS against claiming that the complex has been 'stolen' from them, and against politicising the issue.
"After the complex was upgraded, all of a sudden they claimed that it is theirs. Nothing had been stolen as it is ours.
"Do not politicise football. If they want to play it the old way, go ahead and good luck," he warned.
It is worth noting that Amirudin had held the Red Giants team manager position from 2015 to 2016, when Selangor Menteri Besar (Chief Minister) Dato' Seri Azmin Ali held the FAS president post around the same period.
After an internal FAS dispute at the end of the 2016 season, Azmin and Amirudin left the association and withdrew state funding from the 33-time Malaysia Cup champions. They have since given support to the other Selangor-based Super League side; PKNS FC.