Premier League
Fantasy Football: Who to target for Manchester City's double game week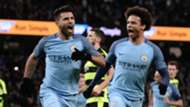 With Manchester City's 5-1 FA Cup win over Huddersfield Town on Wednesday, they have thrown the fantasy world into a frenzy.
Why? Well, because now Pep Guardiola's men will have a double match week… this week! This means double the opportunity for points for all City players and the match-ups (Sunderland and Stoke) are very favourable as well, since neither has a top 10 attack or defence. So which players should you be targeting? Below are four options who have massive point potential for Match Week 27.
Don't forget that you'll need to ensure any City players selected remain in your squad between the two matches in order to claim the double points.
The game is available for iOS and Android so why not download it now and set your line-up for the next round of matches.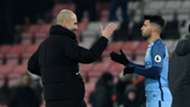 Sergio Aguero
Price: £8.5m
Ownership: 33.7% of managers
Club: Manchester City
Now that the brief Gabriel Jesus era has been stalled through injury, it's time to put the focus back on Sergio Aguero. His price dropped a fair bit due to being benched for the Brazilian and now sits outside the top five in price among forwards.
The low cost definitely makes the Argentina international more appealing, as do some of his underlying statistics. The low goal tally may scare some, but the fact that his shot accuracy percentage (55%) falls right in line with his five-year average (56%) means he should launch back up to the mean any time now. Add to that the fact that Aguero will consecutively face two bottom-10 defences this week, and you have not only a great addition, but a great captain option as well.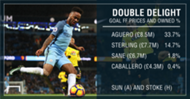 Raheem Sterling
Price: £7.7m
Ownership: 14.73% of managers
Sterling has been completely revitalised this season under manager Pep Guardiola. From a non-analytical standpoint he just looks better. His pace has always been his greatest asset, but his decision making in the final third has definitely improved.
There is some statistical evidence of this as he currently has contributed to more Manchester City goals (21) than anyone not named Sergio Aguero in all competitions. Also, the young winger actually leads all City players in fantasy points in the Goal format (114). As for match-ups, their first opponent, Sunderland, have kept just three clean sheets in the last 10 matches. The second is Stoke, who had trouble keeping up with Tottenham's front three last week, and none of their defenders possess the pace that this Manchester City front three can boast.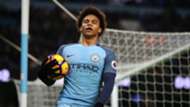 Leroy Sane
Price: £6.7m
Ownership: 1.8% of managers
Clearly the best differential of the City players is Leroy Sane. The 21-year-old has now made four consecutive Premier League starts, having beat out Nolito for the job, and has notched a goal and two assists over that period. His performances in the FA Cup (two goals in two starts) and Champions League (a goal and two assists in two starts) also go to show just how dynamic the young German can be. Sane is the most likely to be rotated of these three but just one match against Glen Johnson or Billy Jones should see him rack up the points.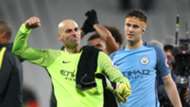 Willy Caballero
Price: £4.3m
Ownership: 0.43%
After some high profile gaffes by Claudio Bravo, it seems the job of first choice goalkeeper is Caballero's to lose now. He won the job back three weeks ago and, in that time, has already managed half the clean sheets (2) that Bravo (4) has earned all season.
The Argentine admittedly does not make many saves, but fortunately for you, that is not a scoring category in this format! Neither Stoke nor Sunderland boast a top-10 attack so the chances of a double clean sheet, and his low price, make Caballero a very interesting option for Match Week 27.