Fandi Ahmad
Fandi Ahmad's humility the reason why he is such an endearing figure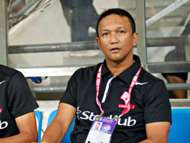 As a child growing up in sunny Singapore and loving football, the name Fandi Ahmad never fails to escape our ears. For a whole generation of us he was an inspiration; the benchmark for footballing success and even till today his footballing exploits continue to reverberate around the country.
On the 12th of June I attended an event which celebrated the heritage of Queensway Shopping Centre and Weston Corp's role in turning it into what it is today as a go-to destination for sports enthusiasts across the island. Fandi Ahmad was present along with his two sons and now as a journalist it was my first time meeting the man and having the chance to interview him.
As I spoke to Singapore's footballing son, I could not help but notice how the man had kindness in his eyes which was thoroughly backed by his humble personality. This was a man who had reached the highest levels of success as a footballer yet still has his feet firmly planted to the ground. It was apparent that Fandi was still the face of Singapore football even after all this years.
He had the charm of a movie star and it was truly mesmerising to see Singaporeans of all races and creed cosying up to him, for a picture. No one was refused a picture and Fandi was even kind enough to chat them up. Even when a passer-by disrupted an interview that he was giving, the man never lost his cool and handled the situation admirably. As a coach Fandi's credentials are questionable as many continue to doubt his ability to lead the national team to glory.
However as a person and a football player, he is an endearing figure. He unites people and brings happiness to them. The 56-year-old once mentioned how he said that he had a gift to make people smile and he definitely hit the nail on the head with that statement. Now, will we ever see the next Fandi Ahmad? Sadly, the answer is no as such a personality only comes around once every generation. He is truly Singapore's national treasure.