Super League
FAM throws book at JDT and Kelantan for failing to control their fans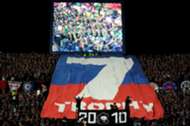 Football Association of Malaysia (FAM) earlier today announced another set of disciplinary action on Super League teams with Johor Darul Ta'zim (JDT) and Kelantan being the culprits this time.
In a decision released by the Disciplinary Board (DB) of FAM on Monday evening, JDT and Kelantan are both fined equivalent amount of RM10,000 for what their respective fans did in recent league matches.
JDT was found guilty because their fans threw rolls of receipt papers onto the field during their match against Melaka United on 9 April 2017 while Kelantan also committed the same offence with the exception that their fans were throwing plastic bottles onto the pitch during their match against JDT on 12 April 2017. 
FAM reiterated through the announcement that they hope fans take into consideration their behaviour during matches as the brunt of the pain would ultimately be felt by the teams they support.
In a separate note, Football Malaysia Limited Liability Partnership (FMLLP) also issued a statement condemning the action of Pahang during Sunday's FA Cup semi-final tie against Negeri Sembilan. 
It was reported that media personnel were not allowed to perform their duties during the match. With the matter being brought to the attention of FMLLP, who are the organisers of the competition, the body wasted no time to remind Pahang FA of their media obligations throughout the competition.
FMLLP had also earlier forced to apologise to fans after Pahang refused the said match from being telecast live with renovation work being used as the reason. Announcement of the live telecast had already been made earlier last week and the turnaround came as a bit of a shock.