Phil Neville
FA defends Neville appointment amid backlash over sexist tweets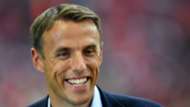 The Football Association has defended the hiring of Phil Neville as England women's national team manager after a backlash over Neville's sexist tweets from several years ago. 
Neville was named Lionesses boss on Tuesday amid criticism that he was not qualified for the role, as it was his first head coaching position. 
The former Manchester United defender's position was further called into question when a series of sexist tweets he sent in 2011 and 2012 were uncovered.  
The backlash forced Neville to delete his Twitter account, and issue an apology on Wednesday. 
In response to Neville's appointment, the organisation Kick It Out issued a statement expressing "serious concerns over a recruitment process that has resulted in the appointment of someone with no record of management or experience in women's football.
"In light of recent action taken in response to historical social media comments made by current football participants, the question must now be asked - will the FA be charging Neville for posting discriminatory comments on social media?" Kick It Out continued.
Responding to Kick It Out, FA chief executive Martin Glenn has defended Neville's appointment, saying he will not be disciplined for his previous tweets. 
"The assessment of the FA's integrity/regulatory team is that those comments would not meet the threshold for issuing a charge against any participants (in football) but as part of the induction process, Phil will be educated on all aspects of the FA's regulatory functions and his responsibilities thereunder," Glenn wrote in a letter to Kick It Out. 
"The background vetting (independently conducted to senior executive search standards) highlighted some but not all the historic social media comments that have been brought to light.
FA letter to Kick It Out. pic.twitter.com/iLbJMe3Euu

— FA Spokesperson (@FAspokesperson) 24 de enero de 2018
"A thorough discussion about our expectations around standards and culture was part of the process.
"For clarity we were only made aware of some of those comments through the media reporting yesterday but I am pleased that Phil has apologised for those remarks today, and can confirm that the decision to close his social media account was his alone.
"I have personally been impressed by Phil's determination, his integrity and values that came through strongly in his background checks and references."