African All Stars
FA Cup offers Antonio Conte and Victor Moses a chance at redemption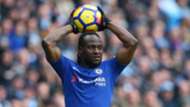 ---
COMMENT
---
For Chelsea and Antonio Conte this season, when it's rained, it's poured. About this time last year, the Blues were en route their fifth title success since Roman Abramovich bought the club in 2003 and had an FA Cup semi-final date with Tottenham Hotspur at Wembley Stadium in the offing.
This season, however, has been a stark contrast of the previous campaign.
Granted, the Blues are back at the Home of Football for another semi-final in the oldest cup competition in the world, this time against Southampton, but the torturous year surely wouldn't be etched in the fans' memories for years to come.
Barring their league position, many would argue this year hasn't been too dissimilar to two years ago when all seemed to collapse after winning the league as the Stamford Bridge club unwantedly secured a tenth-placed finish.
Statistically, though, it should be noted that Conte's side have accrued more points, scored more and conceded less goals than that season, which does put that campaign into context.
On the other hand, the pattern of Chelsea's collapse has been striking and all too familiar: the inability to secure summer transfer targets, the manager courting controversy, not seeing eye to eye with the board and allegedly falling out with key players.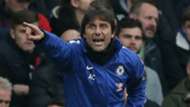 Yet, when put into context one would find that at the turn of the year – after 21 games and just after Chelsea annihilated relegation-threatened Stoke City 5-0 at Stamford Bridge – the Pensioners were sat in second with 45 points, four ahead of Liverpool in fourth and a staggering eight ahead of Spurs – who, admittedly, had played a game less – in sixth.
It is therefore puzzling that 13 gameweeks down the line, last season's champions find themselves three places down in fifth having lost five games in that period, one more than they had lost in the previous 21. They sit a staggering seven points behind Jurgen Klopp's side and five adrift of Mauricio Pochettino's team. The manager has vowed to fight on – although with the repeated caveat of how difficult his job seems to be – and winning the cup would be a decent way for the reportedly set to depart Italian to leave on a high.
For Victor Moses, though, you sense he's got unfinished business in the competition after last season's final embarrassment against Arsenal.
Having played a major part in the 4-2 semi-final win over Spurs (by winning a penalty that was converted by Willian which put Chelsea 2-1 up before half-time), the wing-back was sent off in the final against Arsene Wenger's side after receiving two yellows, the second being for simulation, and it put his side in a precarious position for the rest of the game.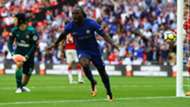 Even more ironic was the fact that, with a man down, the Blues then went on to level things up when Diego Costa scored. However, and perhaps unsurprisingly, Moses' absence told in Arsenal's second barely three minutes later when Aaron Ramsey sent a header from point-blank range past Thibaut Courtois.
The cross through, which the Welshman sent the North London side ahead, originated from the dismissed wing-back's position and one might feel events might have panned out differently with the Nigeria international in the side. It put a downer on what was a good season for the converted winger who thrived in a new position having spent three successive years out on loan.
He hasn't fared much better this year with good performances few and far between, but he does seem to be ending the season with a flurry, evidenced by his recent performances.
In Chelsea's 2-1 win over Burnley on Thursday night, he combined his intelligent running with the much needed end product which saw him involved in both goals. His final ball – which has often frustrated – also seems to be improving as well and maybe the dread-locked wideman is finally turning the corner.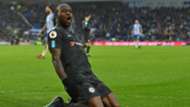 For Conte and Moses, success in the FA Cup would represent a good end to a campaign that's seen both come under severe criticism, but it won't be easy.
With Manchester United – who, regardless of the fact that they are on pace to have their best season (statistically) since Sir Alex Ferguson retired – seeking to avoid a trophyless season, it won't be a walk in the park for the Blues in the final should they get past Southampton.
Winning the cup, however slight it may be, may just persuade Chelsea owner Abramovich to keep the incumbent manager for the last year of his contract.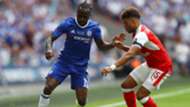 It's a move that will, in all honesty, suit Moses as well.
Over the course of his career, the wideman hasn't been one to break scoring records nor rack up assists (his 10 goals in 43 appearances in 2012/2013 stands as his best return to date), and with a new manager probably not implementing a formation which requires wing-backs, the Nigerian might find himself on the fringes of the side yet again.
Perhaps all that is premature and it would be helpful to take things one step at a time.
The Blues face the Saints at Wembley this Sunday, and as far as silver linings go, going on to win the cup altogether might just placate the somewhat discontented Chelsea fans after what was a year to forget in West London.