PSL
EXTRA TIME: South Africa react to PSL opener and a Mamelodi Sundowns victory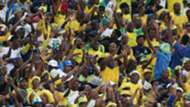 The pick of the Premier Soccer League's exciting opening day fixtures was the Tshwane Derby between defending champions Mamelodi Sundowns and SuperSport United.
The Brazilians produced an outstanding display to capture the imagination of PSL fans and win 2-0 on Saturday afternoon.
Most of social media were in awe of Sibusiso Vilakazi's long-range scorcher in the 24th minute. SuperSport TV provided a highlight of the goal via their Twitter account.
Then Themba Zwane wrapped the game up with the second goal in the 89th minute. We can take a look at the fans reaction with videos from the stadium, posted by the supporters and media on Twitter.
There are also many Tweets from fans of other clubs in the PSL, who are overjoyed the league is back.
Sabc not broadcasting any of the PSL games taking place this weekend ....Thoughts?

— Chulumanco Amahle . (@MahleS21) August 3, 2019
#AbsaPrem is back. pic.twitter.com/qayOhFPHEy

— Mahlatse Mphahlele (@BraMahlatse) August 3, 2019
What a goal by Vila. #TshwaneDerby

— Ernest Makhaya™ (@ernestmakhaya) August 3, 2019
Lads, we are winning the league @CapeTownCityFC pic.twitter.com/h4Ni4M1E5B

— 🐐 (@FigoMadridismo) August 3, 2019
30mins before the start of the @OfficialPSL . All the best to all the teams, players, officials, coaches for the 2019/20 season😉⚽️

— R Letsholonyane (@reneilwe06) August 3, 2019
We are excited about the new season - Chairman - ⁦@KaizerChiefs⁩ https://t.co/OSOG7Lob2w

— Vina (@alfavina) August 3, 2019
Rivaldo Coetzee has been so good today. What a player. #AbsaPrem

— AB Basson (@ABBasson17) August 3, 2019
Mamelodi Sundowns have a decision to make. Do they look to add on their one goal lead or will they be confident in defending it? They need to be clear about their second half intentions, that's important.

Sundowns 1-0 Supersport | Halftime#AbsaPrem

— Smangaliso Mdluli (@SimangalisoMdl2) August 3, 2019
Themba Zwane is a special player

— Matthew Rusike (@Mattyrusike) August 3, 2019
The reigning champions off to a winning start. 2-0.

— Joe Crann (@YesWeCrann) August 3, 2019
#MamelodiSundowns players celebrating with their fans after the 2-0 win over #SuperSportUnited. #AbsaPremiership pic.twitter.com/d7fjKzEvsc

— Mahlatse Mphahlele (@BraMahlatse) August 3, 2019
The King 👑 😁🥇 pic.twitter.com/dP8LYD7HVU

— Mazola J. Molefe (@superjourno) August 3, 2019
Tshwane is YELLOW! 👆#Sundowns pic.twitter.com/oVauzOGiLC

— Mamelodi Sundowns FC (@Masandawana) August 3, 2019
VILAKAZI SCORES A STUNNER ⚽️ 🚀

Sibusiso Vilakazi bagged the opening goal of @Masandawana's season with a brilliant, left-footed long range effort. There's just something about the #AbsaPrem and opening weekends 🔥🇿🇦 pic.twitter.com/5aVbPcwLvU

— SuperSport (@SuperSportTV) August 3, 2019
🤣🤣🤣🤣🤣🤣your Supersport analysts just said Vilakazi is back at his best after just one game

— Orpheus (@BrianZ_Gwala) August 3, 2019
Nobody: That was a cracker by Lorch last week against Chiefs.
Sibusiso Vilakazi: Hold my beer #SSDiski #AbsaPrem #MamelodiSundowns pic.twitter.com/K0ZAa3XyCD

— Mvangeli Nzuza (@MvangeliNzuza) August 3, 2019
Pitso Mosimane and Mamelodi Sundowns have created something really special over the past few seasons. #AbsaPrem pic.twitter.com/JucOAA23Aj

— AB Basson (@ABBasson17) August 3, 2019
Re ba utlwile ba re seba mabane... First League Game... Well come back Sundowns 👆🏽👆🏽👆🏽 #Sundowns #TshwaneDerby pic.twitter.com/YqR6ALi5qw

— Tumi (@TrapandLos) August 3, 2019
Thank you Masandawana #Sundowns #DownsLive pic.twitter.com/rZEPkgAX1a

— Downs Khayelitsha Branch (@khaltsha_Branch) August 3, 2019
Vila Strikes 🔥🔥😭😭 #Sundowns #DownsLive pic.twitter.com/vARDIsaUpX

— Back2Back PSL Defending Champion👆🏼🏆🏆 (@mpexo) August 3, 2019