Siyabonga Nomvethe
EXTRA TIME: PSL fans joke about Siyabonga Nomvethe's age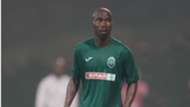 The fan reaction to Siyabonga Nomvethe announcing his upcoming retirement hasn't slowed down.
One supporter pointed out that the former Bafana Bafana star played for eight years for six clubs. This started a funny reaction to what's Nomvethe's true age.
When you consider how strong he's been in recent seasons and that he's currently 40-years-old, no wonder the fans are amazed at his powers.
The former Orlando Pirates and Kaizer Chiefs hitman has been on the books of Usuthu ever since he departed Moroka Swallows in 2016, and he has continued to roll back the years with some stellar performances.
However, with Nomvethe turning 41 in December, he has now opted to hang up his boots in December, as he looks to make way for the future crop of talented footballers.
You can enjoy South African fan humour with these Twitter reactions here:
Spent 8 years in each team! What a player!!!! pic.twitter.com/zrAhR106xF

— Olwethu Sipuka (@osipuka) September 16, 2018
So how old is he? pic.twitter.com/kCg9T0gm0S

— SERG (@seturmind) September 16, 2018
40 is his football age he is 72 year old I know him pic.twitter.com/HStZwjGcXB

— Gcina Buthelezi (@GcinaButhelezi2) September 16, 2018
8x6=48 kant how old is he and what age did he exactly start playing ??

— African Unicorn (@asanda_tee) September 16, 2018
He is 64 and he started playing 8 years before he was born for kwamashu stars pic.twitter.com/IUqJneAk2f

— Shaka (@ndumis_mthiyane) September 16, 2018
Mlume Mathematics  pic.twitter.com/nQA03F3iVO

— That Pedi Guy®️ (@elias_mankwe) September 16, 2018
September 16, 2018
+ 1 at bucs

— ALFREDINHO (@alfred5482165) September 17, 2018
Rare

— Fran Hilton-Smith (@Franzo_safa) September 16, 2018
Kahleni does that mean I am over 48 but I am not aware, I am pretty sure he started playing when I was a kid

— AfricaYonke (@The_Sweduke) September 16, 2018
I think there was miscalculation.

— SimCard (@CmphiweNtuli_) September 16, 2018
The 2000 folks are convinced it's a miscalculation

— Olwethu Sipuka (@osipuka) September 16, 2018
8 years in 6 teams = 48.

— Mathanda (@MathandaNcube) September 16, 2018
Not sure about the 8 years story but what I know is he is a legend some players didn't even last 5 years as professional players

— Mamale Mamogobo (@axionteq) September 16, 2018