Percy Tau
EXTRA TIME: How South African football reacted to Percy Tau's move to Belgian division two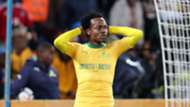 English Premier League outfit Brighton & Hove Albion loaned their South African signing Percy Tau to Belgium second division club Royale Union Saint-Gilloise for a season.
The 24-year-old joined the Seagulls after being crowned the 2017/18 Premier Soccer League (PSL) Football of the Year, but local football fans are asking questions about his transfer and loan.
Here's what South African's are saying on Twitter about the loan.
Percy Tau at union st gilloise training pic.twitter.com/gpxwChToSL

— pierre degimbe (@pierre1651) August 9, 2018
Go and shine Percy Tau .

— Imameleng(@Imameleng19) August 15, 2018
Percy Tau devalued by Brighton to Belgian second division 

— #SportsFanatic (@taytbells) August 15, 2018
Sending @BafanaBafana striker Percy Tau to Belgium second-tier side is a bit mischievous. Brighton & Hove Albion should have at least loaned him out to a top-flight club pic.twitter.com/YAJ7Z0qDPW

— Dominic Chimhavi (@DChimhavi) August 15, 2018
South Africa's current best player Percy Tau gets loaned to the second tier in Belgium in country where players like Andile Jali & Darren Keet didn't REALLY succeed in the first division. Realised was coming but this seems a strange plan.

— David Minchella (@David_Minchella) August 15, 2018
Sobona FC would beat the team Percy Tau is playing for

— Kgaogelo Phooko (@Didilifestyle) August 16, 2018
PSL top goal scorer & Bafana Bafana International Percy Tau has joined a 2nd Division Belgian team. People are saying congratulations!! #PercyTau pic.twitter.com/ZULjnkz80V

— Hloni Nyetanyane (@HloniNyetanyane) August 15, 2018
English Premiership side Brighton & Hove Albion have loaned @BafanaBafana striker Percy Tau (24) to Belgium Second Division side Royale Union Saint-Gilloise for the season pic.twitter.com/C6R3OTBJvv

— Bafana Bafana (@BafanaBafana) August 15, 2018
No percy tau in the line up..eish pic.twitter.com/hPy7TmsXlB

— Nkosinathi Mafex (@NMafex) August 13, 2018
What a downgrade this is for Percy Tau ....from the premier league in south africa to the NFD of Belgium 

— Mlangeni  (@great_dlamini) August 15, 2018
Percy Tau has made his bed, he must lie on it!

— NYOSI  (@Sistren_Bee_107) August 15, 2018
People who are complaining about Percy Tau joining a 2nd division Belgium team do not understand the logistics behind it.

— Mourning Period  (@BrylanSean) August 15, 2018
Sad to see so many talented SA players make the wrong decision for their development, whether it's staying in the PSL too long or joining the wrong club in Europe, I hope Percy Tau finds the strength to get through a whole year in Belgium's 2nd div & then get his Brighton chance

— Ignat Football (@IgnatFootball) August 17, 2018