CAF Champions League
Esperance coach Chaabani: We had many problems on the way to Caf Champions League title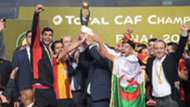 Esperance coach Mouine Chaabani has admitted that his team experienced a difficult night against Al-Ahly, even though the scoreline suggests it was easy.
Midfielder Saad Beguir struck a brace and striker Anice Badri scored the winning goal as Esperance ran away with a 3-0 victory and overturned the 3-1 defeat suffered in the first leg away in Alexandria seven days earlier.
"Thank God for the victory. The match was a difficult one," Chaabani was quoted as saying by Al Ahram as the 'Blood and Gold' finally put an end to their 10-match winless run against Al-Ahly. 
"Esperance were written off by many pundits and were not the favourites for the title, especially that we had to encounter many problems from the beginning.
"We missed key players due to injuries and suspensions and suffered a first-leg defeat in the final.
"The management and the fans stood behind us and we finally became African Champions."
Esperance will represent Caf at the Fifa Club World Cup in the United Arab Emirates next month.