Kaizer Chiefs
Ernst Middendorp unfazed by Kaizer Chiefs' poor finishing
South Africa Chief Editor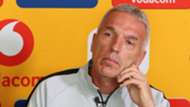 Kaizer Chiefs head coach Ernst Middendorp says he is not frustrated by his team's lack of composure in front of goal. 
Amakhosi have been creating plenty of goalscoring chances of late but they have converted a lot lesser than that, especially in recent games where they have hardly scored two or more goals in their league matches.
Overall, Chiefs have scored just 24 goals in 20 league games so far this season despite boasting one of the best attacks in the league. 
However, Middendorp, who returned for his second spell with the club in December 2018, said he will continue working hard to sharpen his attackers. 
"When you work as a coach, your friend is not frustration," Middendorp told the media.
"There's a very clear understanding of coaching a team - it means never give up, work on it and replicate situations in training," he said. 
According to Middendorp, Chiefs' attack has improved, but he expects his charges to continue improving. 
He also admitted that some of his players haven't been at their best, but he doesn't think 'frustration' is the right word to describe the situation that his team is faced with.   
"It's been looking a bit better, but [in training] you cannot produce a game-related situation where there are supporters' expectations and so forth.
"And we know that certain players can do better in terms of finishing, but for me, it's not frustrating. I actually don't think it's the right word coaches should work with," concluded the German mentor.