Arsène Wenger
'Enough is enough' - Wilson sees Wenger walking away from Arsenal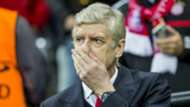 Arsenal legend Bob Wilson would not be surprised to see Arsene Wenger leave the club at the end of his contract, with ongoing criticism likely to "tip him over the edge".
The Frenchman has spent over 20 years at the Gunners helm, but is facing the most testing period of his tenure.
Arsenal must purge Wenger & 'yes' men
There have been calls for him to step down on a regular basis in recent years, but an iconic coach has responded with top-four finishes and two FA Cup successes.
He is, however, enduring another test of his ability to maintain a lofty standing in the Premier League, while a 5-1 mauling at Bayern Munich looks set to condemn Arsenal to another last-16 exit in the Champions League.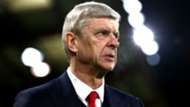 Wenger has faced some difficult questions on the back of a European mauling at the Allianz Arena and Wilson, who formed part of the coaching staff in north London when the 67-year-old arrived at the club, believes this summer could bring about the end of an era.
The double-winning goalkeeper told BBC Radio 5 Live:  "The big question now is, is this going to tip Arsene over the edge?
'Wenger not being taken seriously'
"He's a hugely intelligent man; he can only take so much.
"He lives for the club, totally dedicated, very hurt when things go wrong. But as everybody knows and everybody sees now, his longevity in the job, 20 years, seems to be a little bit like a millstone round his neck when things go wrong.
"I wouldn't be at all surprised if Arsene, given the amount of headlines that are coming his way, might just look at that and say enough is enough. I think as a human being you can only take so much."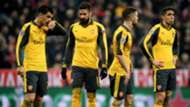 While Wenger has shouldered much of the blame for Arsenal's failings in recent times, Wilson says an underperforming squad should also fall under the microscope.
He added after seeing the Gunners torn apart in Munich: "Apart from the 20-minute spell when Arsenal came back to 1-1, when in fact Arsenal had two great chances, it was then a horror story, a total horror story.
10 candidates to replace Wenger
"You have to point the finger at the players. When it comes down to a serious defeat, a really bad defeat, a capitulation almost, you have to look at the players.
"They are the ones that are letting themselves down, letting the manager down, letting the coaching staff down and most of all letting the fans down."