Mexico
Elias Hernandez ignites Mexico attack in Gold Cup-opening win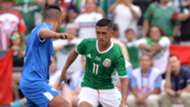 No player in modern Mexico national team history had gone so long between goals. Elias Hernandez scored in a friendly against Ghana prior to the Gold Cup to snap a seven-year scoring drought representing El Tri.
He didn't wait long to score his next, converting a penalty he won against Paraguay in Mexico's next game. Sunday he made it three in three, scoring in Mexico's 3-1 victory over El Salvador to open the Gold Cup. It's the first time Hernandez has scored in three consecutive matches for club or country.
Ratings: Gallardo, Hernandez lead the way
He nearly had another, getting a number of chances after he spent more time on the right. Hernandez unleashed on one chance that hit El Salvador goalkeeper Benji Villalobos squarely in the face, a contributing factor for the goalkeeper making way in the 75th minute. He was still running shortly after, recycling the ball after a goalkeeping error and earning a corner kick in the 79th minute.
That seemingly endless motor is exactly what made the 29-year-old so dangerous for El Tri. He popped up all over the field in the first half, attacking El Salvador's unseasoned fullbacks from different points. HIs movement was on display on the goal when he was left totally alone at the back post and placed a beautiful volley that put Mexico back into the lead. Not only did the goal showcase his movement and finishing but, as his first strike not to come from the spot, it also put on display that Hernandez can do far more than simply convert penalty kicks.
"I try to take advantage of the minutes I have," Hernandez said after the game. "Today is was a great game, the team showed great personality and personally I felt really comfortable."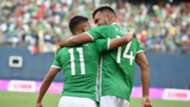 #CopaOro2017 : Señor GOLAZO de volea de Elías para el segundo de #MEX pic.twitter.com/a340wweKaf

— Univision Deportes (@UnivisionSports) July 10, 2017
The question about Mexico going into the tournament was just who would score the goals. Hernandez clearly can be the answer for this alternative side. But that won't be his role, necessarily. That's a bonus. But he did what he is being asked to do by fill-in coach Luis Pompilio Paez by finding the weaknesses in El Salvador's back line and going after them. Both assists were well-placed balls taking advantage of things he'd noticed about El Salvador.
Clearly, he'd scouted the back post, finding Hedgardo Marin for the opener with nearly his first effort there. His own strike came from finding similar space from the run of play. Then, he took advantage of Villalobos' lack of confidence coming off the line, putting a pass into the space between the goalkeeper and his center backs. Orbelin Pineda, who entered at halftime and logged a solid performance, was the beneficiary, scoring with more of a deflection than a finish.
Ochoa transfer to Standard complete
Had there been better finishing, Hernandez may have had even more assists. He put a ball on a platter for Angel Sepulveda, only to see the forward's header sky over the bar. If there's one place to complain about the attack's performance Sunday, it may be how many more the team could've scored with a true central forward. Hernandez clearly could continue putting the crosses in for a No. 9 who gets into the box and puts headers on target.
There's no player like that on the roster — at least not until Erick "Cubo" Torres gets up to speed. For now, though Hernadez's performances were more than enough.
"Starting off winning is really important. It gives the group confidence, although we know there are things to correct," Pompilio Paez said after the match. "It's easier to correct those things when you're winning, and especially this time, for example, we got more results on the wings with Elias and (Jesus) Guardado inverted." 
The Leon player is finding his form at the right time. Mexico coach Juan Carlos Osorio is set to take between four players and six players from this Gold Cup group to Russia. The winger position is Mexico's deepest, and it's tough to see a way for Hernandez to get past Carlos Vela, Jesus Corona, Hirving Lozano, Javier Aquino, Giovani dos Santos and Jurgen Damm on the depth chart.
But Hernandez is showing that in the case of injury to one or more of those top-line players, he'd be a good option. Continued success at the Gold Cup will only help to build his case.