Neymar
Elber: Neymar's World Cup antics 'too much' and could come back to haunt him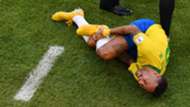 Former Brazil forward Giovane Elber believes Neymar's attempts to draw fouls and convince referees to book opponents has become 'too much' and is taking away from what the 26-year-old can do. 
The PSG star conceded Sunday that he sometimes exaggerates fouls , his first admission after consistent criticism during the World Cup that he was making a meal of defender's tackles. He also said, "I suffer on the pitch," but while Bayern Munich legend Elber is in awe of Neymar's talent, he said the player's ability makes it all the more frustrating that he resorts to theatrics rather than concentrate on besting opponents with his skills.
"Too much. Too much. If you want to be one of the best three players in the world, you have to look at who the best are right now. Cristiano. Messi. Cristiano and Messi don't do these things. They play football. And Neymar knows how to play football!" Elber told  Goal .
"There are times in the match where he could move the ball more quickly, but he keeps the ball and takes a foul from behind and falls by himself and the whole problem starts. That's not good for him.
"I think it's going to big for him this season because now we've all seen who Neymar can be on the field. That he can have problems with the referees, that players are going to play against him and with the fans. You have to only think about playing football."
He added: "It's not necessary. Neymar is a fantastic player, a nice person and he doesn't need this sort of thing."
Despite elimination by Belgium in the quarter-finals, Elber said he was happy with Brazil's performance in the World Cup. He's looking for more success after the CBF, the Brazilian federation, announced last week that Tite has signed a contract extension to manage the Selecao through the 2022 World Cup.
"it's really, really good," Elber said. "The CBF has done well to give him a chance to stay more time. Because in Brazil, in football, people want the results to come right now, quickly, and that's not how it works. When you look at some of the top teams, past champions like France, Germany, the manager has been there for three or four World Cups with the team. There's a process.
"They work (and have) more time with the players, they know what they can get with each player and I think the CBF has done well to keep Tite because now Brazil has a team. It's not just Neymar. Even in this World Cup, we saw Coutinho perhaps surpass Neymar. You have to have a team and not just one player."