Mexico
Jonathan dos Santos turns in quality performance for Mexico as Guardado replacement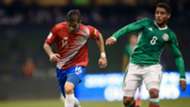 MEXICO CITY — With the Mexico national team coping with a number of injuries, coach Juan Carlos Osorio had more decisions than usual to make ahead of Friday's World Cup qualification match against Costa Rica.
He labored over who to play on the left side of the attack, with Jesus "Tecatito" Corona and Hirving Lozano both injured. Eventually, he settled on Oribe Peralta. His choice to replace Andres Guardado, out of action because of a leg injury, was easier.
Chicharito takes place among El Tri greats
In his familiar 4-3-3, the manager called on Jonathan dos Santos to take the left spot next to Rafa Marquez in the middle and Hector Herrera on the right side.
"We think Hector Herrera and Dos Santos are interior players, playing inside, not outside like they play in their clubs. This is what makes us happiest, to see that they can play and compete with Andres for this place," Osorio said after the game.
Now, with Marquez set to miss Tuesday's clash with Trinidad and Tobago because of an injury, Osorio may need to lean even harder on the Villarreal midfielder. The good news for El Tri is that Dos Santos looks more than prepared to play in the center of the pitch, breaking up attacks, getting the ball to the attackers and controlling the game.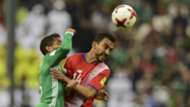 This shouldn't be a big surprise. Dos Santos has been one of the Mexican players in the best form in Europe, helping Villarreal to fifth place in the La Liga table heading into this week's FIFA window. As Osorio earlier this week endorsed several of his players to move abroad, saying four are ready to play in a mid-table or higher team in Spain's first division, Dos Santos served as an example.
Frustratingly for El Tri fans, the ability the 26-year-old has shown in Spain hasn't made its way back across the Atlantic. Dos Santos has been hit by injury at the wrong times or struggled to find the right role. Now there is no question. Guardado is a player at the top of his game when fit, but Dos Santos' performance against Costa Rica showed that he is starting to translate what he does with his club to the national team.
Mexico tops Hex for first time in 12 years
He was everywhere on the field against Costa Rica, making life difficult for Bryan Ruiz, who typically is the one causing a hassle for opponents. Ruiz and forward Johan Venegas found it difficult to connect, while Dos Santos and Miguel Layun teamed up to keep the Ticos' fast wingback Cristian Gamboa from making any dashes forward.
Even at age 37, Marquez has been the balance in the Mexico team for most of Osorio's tenure. Dos Santos could have an audition Tuesday. If he's as impressive against the Soca Warriors as he was Friday, the increasingly frequent injuries to El Kaiser will be less of a worry for Mexico with a midfield grouping of Dos Santos, Guardado and Herrera (or Orbelin Pineda, who is also likely to get a look Tuesday) able to cope with CONCACAF's best and the teams Mexico will meet at the Confederations Cup and next year's World Cup.