Transfers
Dolberg rules out Ajax exit amid Borussia Dortmund and Monaco rumours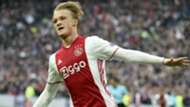 Kasper Dolberg has ruled out a summer move to Borussia Dortmund or Monaco, claiming he is 100 per cent staying with Ajax.
Speculation linking the 19-year-old Denmark international with a transfer away from Amsterdam intensified last week when Monaco reportedly offered €50 million for the forward.
Ajax 6/4 to win the Eredivisie
Ajax, though, have no intention of selling Dolberg and are reported to have flat out rejected the bid from the Ligue 1 title holders.
Dortmund are also rumoured to be in the market for the Dutch Footballer of the Year, with Real Madrid another potential destination.
However, the striker, who scored 23 goals in all competitions last season, has no intentions of leaving the club.
"It isn't my plan to leave Ajax," he told Goal following the club's 2-0 victory over VVV on Sunday, in which Dolberg played 90 minutes.
"I've played one season in the first team of Ajax and I've got the feeling I can bring a lot more.
"They told me I don't have to care about the interest of clubs like Borussia Dortmund and AS Monaco. I'm 100% sure I'm staying at Ajax this season."