Brazil
Dinner with Cristiano Ronaldo and the long road home - Pedro Geromel in the form of his life
Raisa Simplicio & Rupert Fryer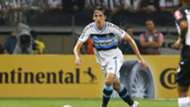 ---
EXCLUSIVE
---
When Pedro Geromel arrived at Gremio in 2014, few in Porto Alegre even knew who he was.
His immediate impact and assured showings at the heart of their defence not only instantly made him a household name, they quickly led to him gaining a new one.
'Geromito' is now a club icon and the rest of the country are now more than familiar with the 31-year-old.
Brazil coach Tite certainly had no problems remembering his name when it came to selecting his Brazil squad. Pedro Geromel is now frequently jotted down alongside the likes of Miranda, Marquinhos and Thiago Silva.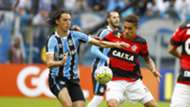 It's been quite a ride for a player who went from lining up against the likes of Lionel Messi and Cristiano Ronaldo to fans scratching their heads and criticising the board for signing an 'unknown' when he finally came home after a decade away.
Geromel left Brazil in 2004 after an immensely frustrating spell with Palmeiras that ended in a bitter divorce, and eventually saw him join the thousands of his compatriots who flee their home country in order to peruse their footballing dreams.
"When I was young, I was always very focused. I knew what I wanted and I went for it until I became a professional footballer," Geromel told Brasil Global Tour.
"I played for many years in the youth divisions at Portuguesa in Sao Paulo as that was where I had grown up. Then I moved to the Palmeiras youth team, but left after 18 months."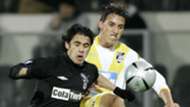 At a loss as to why he was only selected for home matches, his brief spell with Palmeiras was frustrating and confusing for a teenager who had just left home. 
He quickly realised it was time to move on and an opportunity presented itself when a family friend, whose uncle was working for a club in Portugal, suggested heading to Europe.
"I went with a friend to Portugal, but he only stayed for two months. I ended up being there alone, without any friends or relatives. I struggled to adapt, to deal with the differences of culture, the cold weather, the different food and the local customs," he says.
"At that time, I lived in a room above a restaurant in the city of Chaves, where I played for six months as a youth-team player, and then for a year as a professional until I moved to Vitoria Guimaraes where, thankfully, I would gain a reputation for being one of the best defenders in the country."
It was the real beginning of a career that at one stage he thought he might never have. Geromel moved out of the shabby room, settled in the country, and went from strength to strength. But after three years impressing in Guimaraes, it was time to up sticks and move on again.
"I moved to Germany to play for FC Cologne, who bought me for €4.5 million, and I had the opportunity to play in one of the most competitive and attractive leagues in the world.
"I spent four years in German football, which is spectacular. They had new stadiums, transformed by the 2006 World Cup, and they were always full, which makes every game special. The quality and intensity of the matches were the biggest differences I felt this time."
Settled, more mature and secure, Geromel would excel for six years in Germany, attracting interest from the likes of Juventus, Lazio and Real Madrid.
And among his admirers was super agent Jorge Mendes, who one evening had Geromel and another special guest over for dinner.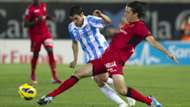 "I worked with Mendes for 10 years and I am very grateful for everything he has done for me," Geromel says. 
"One day I was at his house and we had dinner with Cristiano Ronaldo. Cristiano was a very nice person, he was very humble. He deserves every success he has ever had."
Geromel would make over 100 league appearances for Cologne, but the club would fail in its attempts to seal a Champions League return and, following their 2012 relegation, they were never going to hold onto their star defender.
"I moved on and played for a year on loan with Real Mallorca in La Liga. It was a great experience. I got play against Lionel Messi. 
"The statistics said I was one of the best defenders in the league."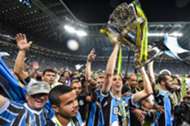 But Mallorca brought only a second successive relegation for Geromel and, in 2013, when Gremio expressed an interest, it was finally time to go home, whether home remembered him or not.
"When I had the chance to go back to Brazil and play for Gremio, I didn't think twice.
"When I was introduced, I knew I would have to gain my place in the team by showing what I could do and so that's exactly what I did.
"After 10 years in Europe, to be able to return to Brazil to be closer to my friends and family and still play in a great team like the Gremio, and to [win the Copa do Brasil], has been phenomenal."
Players and staff in Porto Alegre all say his arrival has been equally phenomenal for the club as a whole, insisting everyone has benefitted from the wealth of experience Geromel brought back from the old continent.
"I had the opportunity to live in Portugal, Germany and Spain, and I was able to learn the languages, customs and curiosities of each place to the fullest. I just like people."
On August 27, 2016, Geromel would meet some new ones when received his first call-up to the Selecao, and admits he was shocked by the news.
"I was at a kid's party with my two daughters and I was kind of paralyzed for a minute," he says. 
"It's an extraordinary feeling to be able to represent my country. I'll never forget the moment I got the call. So many people over the past three years have helped make this dream possible, and I tried to go to each one and thank them personally.
---
READ MORE: 
We are all Chape | Romario, Ronaldinho and Brazil's Under-20 champions | Neymar at 25 | Meet Barca taget Vinicius
---
Last year, Geromel was included in the squad for Tite's first two matches in charge of Brazil, and was instantly impressed by his new boss.
"Tite is distinguished, he's so prepared and conducts himself in the correct manner. He always tries to help and facilitate our work on the field, and does everything he can to help us prepare away from the pitch."
Geromel was called twice by Tite for World Cup qualifiers, but didn't make it onto the field as Miranda and Marquinhos continue to forge a strong partnership at the back.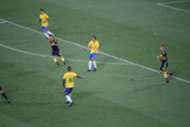 Last month, however, at 31-years-old, Germoel realised a dream by running out for his country in match restricted to domestic-based players against Colombia, organised to raise funds for the victims of the Chapecoense air disaster. 
He helped his country keep a clean sheet as a goal from Dudu secured a 1-0 victory. 
"Brazil is very well served with defenders and so I must prepare myself to be always at my very highest level here at Grêmio. And if they need me in the national team, I will be right here, always ready to help."